Being a mom, I know just how invaluable a stack of free diapers can be.
So I found some free ones for you:
I rounded up 7 different ideas for you to try that will get diapers sent directly to you at no cost.
Bringing home a newborn baby is pretty overwhelming, whether this is your first, second, or even third baby. From the sleepless nights to the added expenses for clothes, milk and other baby needs, parents could definitely get a break.
Don't Miss These Freebies...
Sign up for all 3 sites to get regular freebies in the mail.
Daily Goodie Box - Grab a GIANT box of free samples from some of the world's most popular brands.
Freebies.com - Similar to Daily Goodie Box. Create an account, pick which samples you want, and get a big box of free stuff delievered straight to you.
SwagBucks - Free $10.00 for signing up! Trade your thoughts for cash.
What's more stress-relieving than receiving baby stuff for free, right?
7 Ways to Receive Free Diapers
According to the National Diaper Bank Network, about 1 in 3 U.S. families find it hard to afford diapers. Whether you're included in this statistic or not, I hope this list of ways to get free diapers could be useful to you.
1. Get Free Diaper Samples from Coupon or Sample Sites
If you're not yet couponing, this is the best time to start. Coupons can remove a big chunk of your expenses, especially once you've built a system to support your family's needs.
When you're looking for free diapers, you can request for free samples and actually receive them from various brands.
The downside is you only get 1 or 2 pieces of diaper with each sample you receive. The good thing about free samples is that you can get more baby stuff aside from diapers – imagine infant formula, bottles, toys, and more.
If you're smart with coupons, you can even combine vouchers to receive diapers virtually free of charge.
Note that coupon sites are also up-to-date with sales, so get in on diaper sales early to take advantage of the savings.
2. See if You Qualify Free Diapers from the National Diaper Bank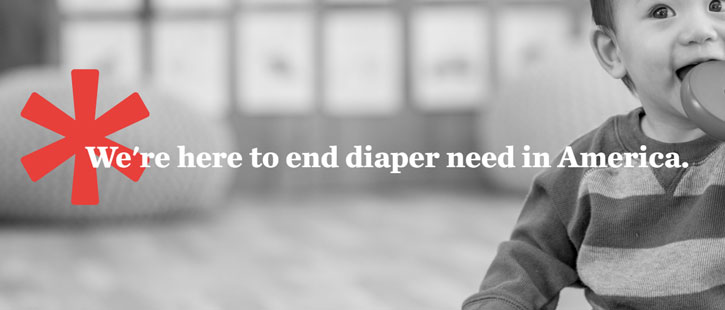 If you or someone you know needs diapers, the National Diaper Bank gives assistance locally. The organization helps those who need free diapers the most, so to check if you're considered a "low-income family," follow this step:
To find out if an agency in your area provides diaper assistance to families in need, please call 2-1-1 on your phone or search online at 2-1-1.org. Specialist are available 24/7 to help identify local resources that may be able to help provide diapers and other basic necessities.
Ask about or search for diapers or basic needs.
Also check the listings under children.
If you still can't find a resource, try local faith-based organizations and food pantries.
You can also determine if there is an NDBN member diaper bank program serving your community by reviewing our member directory.
3. Check Your OB-Gyn, Pediatrician or Hospital
Sometimes, diaper companies bring their goods straight to the hospitals and doctors' offices to giveaway to expecting moms.
All you need to do is ask.
Sometimes, hospitals prepare a box full of baby stuff to bring home with the new baby.
4. Go Straight to Diaper Companies and Request for Free Diapers
Babies tend to use diapers from birth until a year later (or more). Companies are more than willing to add new loyal customers every day. Having one parent switched to their brand means a year's worth of diaper added to their revenues.
This is why giving away free diapers are part of the company's marketing efforts. Just sign up on their official website, join their newsletter, or fill-up a form for sample request, and you can receive a pack or two of diapers.
Start with major diaper companies like Pampers, Huggies, Luvs, GoodNites, and Bambo Nature, among others.
Sometimes, you may need to go the extra length and call their hotline for free diaper samples. Just let them know that you're interested in switching diaper brands and wanted to try theirs first. I bet they'll happily send you diapers to try on your kid.
5. Join Reward Programs
Reward programs, as its name suggest, "reward" its loyal customers with discounted or free items the more they buy products from the same brand.
So if you join the following programs and stick to buying diapers from their store, there's a huge possibility that you'll receive free diapers in exchange for reward points:
6. Join Baby Registries
Walmart – Fill-up this form to receive a free baby box from Walmart. You just need to create a baby registry at Walmart and wait for the free box to arrive. Although it isn't guaranteed that you'd receive diapers with the baby box (the items included depends on current sponsors), you'll receive awesome baby essentials like wipes, shampoo, bottle cleaners, baby lotion, and more.
Target – Create a baby registry with Target and receive $50 worth of baby products, including free diapers.
Amazon Family – This is Amazon's rewards program and baby registry in one. You create an account, register for your baby on Amazon, and check if you qualify for a free baby box. If not, you'd still receive up to 20% discount on baby supplies.
7. Become a Diaper Ambassador
Yes, there is such a thing.
Don't miss these...
These 3 sites will send you FREE stuff in the mail and PAY YOU to hear what you think about what you receive.
Inbox Dollars - Free $5.00 for signing up! Get paid to share your thoughts.
Toluna Influencers - Work directly with companies like Nike, Samsung, Amazon, and Disney to improve their product lines.
Vindale Research - Answer questions about products, shape the future, get paid up to $50 per response.
If you're a mom blogger, or have a huge group of mom friends in your community, companies like Diapers.com are willing to pay you as long as you convince others to buy from them. Referrals convert to $5 a pop, which you can use for paying for diapers when you shop.
Jessica Alba's The Honest Company also looks for ambassadors to talk about Honest products. In return, ambassadors receive giveaways, and even access to new products.
Win Free Diapers
Almost all diaper companies host giveaways every now and then.
So you won't be late to join the game, make sure you follow Huggies, Luvs, Pampers and any other diaper brand you prefer on their respective social media accounts.
Contests can vary – some only require you to comment on the company's post, others require you to post a photo of your baby wearing diapers, and so on.
Never pay to join these contests. It should always be the other way around.
The Bottom Line
Baby diapers can be pretty expensive, but this doesn't mean you should just pay 100% of its price all throughout your kid's diaper-wearing age.
These reward programs, ambassadorship, and other ways to save or obtain free diapers are here for a reason – take advantage of them while you can.