Giving away free food samples is a great way for a company to advertise their food products, whether tried-and-tested or new products they want their consumers to know about.
Don't Miss These Freebies...
Daily Goodie Box - Grab a GIANT box of free samples from some of the world's most popular brands.
Try Products - What's better than one giant box of free stuff? TWO giant boxes of free stuff. Join Try Products to get even more free samples shipped right to you.
Opinion Outpost - Work with companies like Nike, Sony, and Apple and get paid to test out their latest products!
Thus, you'll find free samples of every type of food imaginable given out by companies and stores almost daily.
Today, I'll list down where you can get free food samples.
How to Get Free Food Samples by Mail
You have to admit: free food samples sent right to your door are the best kind!
Feeling left out and want to get in on the fun?
Here's how you can get free food samples by mail, too!
Join Freebie Sites — There are a plethora of sites dedicated to sharing up-to-date freebies from companies. If you hunt these yourself, you won't have much time left for anything else. The best way to do this is to choose a few legitimate freebie sites. These are the ones companies automatically go to share news when products are up for grabs as free samples.
Sign up for newsletters of your favorite brands — Companies offer freebies and samples to their customers all the time. One way companies lure people into becoming loyal customers is by giving them free stuff first. This is the reason why companies always encourage website visitors to sign up for their newsletters.
Send a food sample request directly to company websites — Go to the website of your favorite brand. For example, visit the official Nestlé site. If there is no option to join a newsletter, your next bet is to find the contact form. It is highly unlikely for company sites to be live without a working contact form, so use this opportunity to ask for free food samples.
Visit Costo, Walmart, Target, and other similar stores — If you're going grocery shopping anyway, why not stop over the food sample carts and check out what's available? There will always be samples ready (usually not after 5 pm though), but they offer more samples on weekends and holiday seasons.
Companies That Give Away Free Food Samples Occasionally
Sometimes, all you need to do is ask. Visit the contact page of your favorite food brands, such as Kraft or Pillsbury, and simply ask.
Request to be included in the list of people who are open to receive free food samples by mail or coupons for new and/or existing products. Include your physical address and wait. You may be surprised at what shows up at your door.
You can also try giving companies feedback on their products and they will issue some free samples or coupons as a thank you for your time. I know Campbell's once issued me a stack of coupons for free soup when I called them to let them know there was a problem with one can that I had previously purchased.
Above all, be nice. Praise goes a long way to getting what you want.
Yogi Tea doesn't publicize that free samples are offered, but if you ask via their Contact Page, the company will send you either a free organic teabag sample by mail or a coupon for a free box of tea redeemable at the closest supermarket.
Betty Crocker sends out some goodies to its newsletter subscribers, so make sure you sign up with your e-mail address. The free food samples can be in the form of vouchers or discounts as well.
Minute Rice – Are you a fan of rice? Become a member of The Riceipe Club® Make sure to tick the box "Product Taste Tests/Customer Surveys" and check if you qualify as a product tester. If you are, wait for your free product and answer a survey afterward.
McCormick Testing – Sign up to become a tester for McCormick by filling out a profile. Wait for a few days to learn if your application is accepted or declined. If you're accepted, you'll be sent an email confirmation, followed by McCormick spices and seasonings, which you will use for your recipes as you see fit. Answer a follow-up survey.
The Republic of Tea sends out a newsletter and a catalog for free. Sign up to receive them and you can get free tea samples in the mail.
Truvia is a stevia sweetener that's a good fit for those staying away from sugar, such as diabetics and those trying to lose weight. Fill out the form on their site and sign up for their newsletter to get a free sample and a $1 off coupon on your next Truvia purchase.
If you're into bodybuilding and interested in high protein drinks, free samples of Universal Nutrition Animal Whey would be great.
Of course, this is no guarantee that you'll be sent free stuff, but you don't spend a cent sending a message their way, so there's no harm in trying.
If you're active on social media, follow all your favorite brands to be updated with promos and possible freebies. You don't have to follow all of their social media platforms – just choose from Facebook, Instagram, Twitter, YouTube, or any other platform you use the most.
If you can go out, check out what Costco has to offer. Costco is known to have some of the best variations of food samples, especially during weekends and holidays like Thanksgiving and Christmas where there is plenty of partying and eating involved.
Other big-box stores like Walmart and Target also have both online free food samples, and in-store that's similar to Costco's.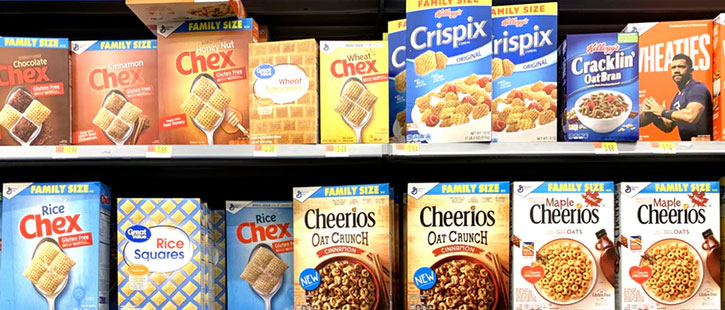 Sites to Join for Free Food Samples
Here are several sites to join or bookmark. What's great about these sites is that they update the listings almost every day, and remove them when samples have expired.
Final Thoughts
As you've learned, free food samples are aplenty; you just know how to find where to get them.
Where are some of your favorite places to get free food samples? Do you walk the mall food court? Costco? Email companies directly and ask them? Any insider tips? Please share in the comments below so we can add them to the list!