Baby diapers are one of the most popular giveaways for soon-to-be parents. Heck, there are even an entire category of baby shower games that involve diapers!
But if you're fully stocked with free diapers, or if you're planning to use cloth diapers, I'm sure you'd love to get a hold of these free baby samples. Who wouldn't? These items add up real quick. Any freebie is welcome in my book.
So without further ado, here are legitimate ways you can receive free baby samples without going out from the comforts of your home:
7 Ways to Receive Free Baby Samples
The following methods do not include gifts from family and friends. Instead, they focus on receiving baby samples from companies, groups, and even strangers.
Don't Miss These Freebies...
Sign up for all 3 sites to get regular freebies in the mail.
Daily Goodie Box - Grab a GIANT box of free samples from some of the world's most popular brands.
Freebies.com - Similar to Daily Goodie Box. Create an account, pick which samples you want, and get a big box of free stuff delievered straight to you.
SwagBucks - Free $10.00 for signing up! Trade your thoughts for cash.
1. Create Baby Shower Gift Registries
You don't have to host an actual baby shower party, but you can register for one if you're expecting. Baby brands compete to be featured in these registries, so there's a huge chance that the baby samples included are either the most sought-after, popular, or newest item in the bunch.
Here are some of the most popular baby registries:
2. Join Rewards Programs
Rewards program give back to consumers through points that are redeemable for other free baby products.
Like groceries, food and toiletries that we buy regularly, you'll probably buy baby products as often as possible until they've reached toddler age or school age. So I recommend you take advantage of programs like the Pampers Club or Huggies Rewards Program.
Stick to rewards programs of brands you like. For example:
3. Look out for Subscription Boxes for Babies
With subscription boxes, you pay for x months to receive a box of goodies each month. Many of these companies provide the first box free of charge, so instead of paying for 6 months, you get 1 month free.
Examples of these are:
Note that some companies only offer free first month as a limited promo.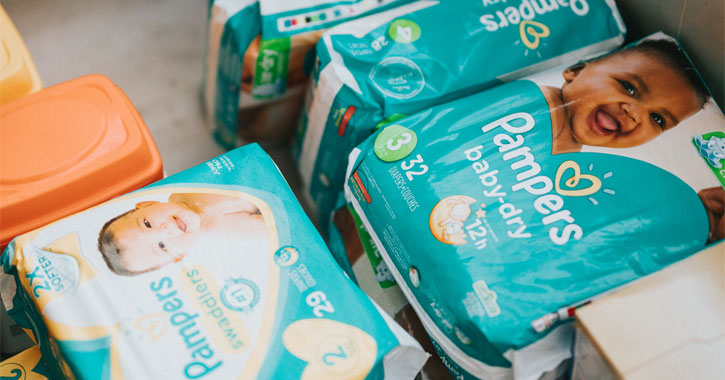 4. Keep an Eye on Baby Brands
Stalk the brands you use for your babies and see what free baby samples you could get.
These companies range from manufacturers of infant formula to breastfeeding accessories.
Some notable brands to check out:
5. Leads from Mom & Dad Communities
Parents often look out for one another, so if you can join mom/dad communities whether online or in real life, this could be a life-changer when it comes to sourcing baby products, or learning about soon-to-launch items in the market.
The community here doesn't really have to be official – they can be your neighbors, the acquaintances you greet at your local grocery store, or a friend's friend. As long as they could offer solid advice and leads on baby supplies.
Sometimes, you don't even have to be physically close to your community. I, for one, have a group of moms on Messenger who I share shopping tips to and they share theirs as well. We're in different parts of the country, but still find value with each other's info.
6. Free Baby Samples from all kinds of Baby Stores
Baby and kid stores almost always have some sort of free baby samples.
Take note of both big and small stores like:
Free samples are not available year-round on stores like these, but they do offer them for special occasions, during sales, when new customers join their newsletters, a client's first-order, and other extraordinary circumstances.
7. Social Media Giveaways and FB Buy Nothing Groups
Aside from bookmarking all the websites of your favorite brands and joining their newsletters or rewards programs, you can also follow them on social media.
You'd be surprised how much companies are giving away free stuff over on Instagram, Facebook Live, Pinterest, and even on Twitter. You just have to raise your hand virtually, post something with hashtags, or follow an easy requirement to participate, then let luck do its trick.
If your social media of choice is Facebook (and nothing else), look for local "Buy Nothing Groups" near you. Many people give away things they no longer need for free. You might be able to receive some baby furniture and unused baby clothes this way.
Did You Receive Free Baby Samples from Places Not on this List?
Free baby samples may also be available at the hospital where you gave birth, or the clinic of your baby's doctor. Don't hesitate to ask – companies send samples over to doctors and hospitals so they could reach you (the target market).
Don't miss these...
These 3 sites will send you FREE stuff in the mail and PAY YOU to hear what you think about what you receive.
Inbox Dollars - Free $5.00 for signing up! Get paid to share your thoughts.
Toluna Influencers - Work directly with companies like Nike, Samsung, Amazon, and Disney to improve their product lines.
Vindale Research - Answer questions about products, shape the future, get paid up to $50 per response.
Do you do coupons? If so, this can also be a good way of getting free baby samples, even if it might take a bit of work.
I'm sure there are tons of other ways to get a hold of baby samples without spending a cent – this list is just the tip of the iceberg. Care to share where you got yours?