Having a baby is wonderful, but it can certainly be a drain on one's finances. Fortunately, there are companies and organizations that give away free baby samples.
Don't Miss These Freebies...
Daily Goodie Box - Grab a GIANT box of free samples from some of the world's most popular brands.
Try Products - What's better than one giant box of free stuff? TWO giant boxes of free stuff. Join Try Products to get even more free samples shipped right to you.
Opinion Outpost - Work with companies like Nike, Sony, and Apple and get paid to test out their latest products!
Baby diapers are one of the most popular giveaways for soon-to-be parents. Heck, there is even an entire category of baby shower games that involve diapers!
But if you're all set with free diapers, or if you're planning to use cloth diapers, there are plenty of other baby products to get for free.
Here are 9 legitimate ways you can receive free baby samples without going out from the comforts of your home:
9 Ways to Receive Free Baby Samples
The following methods do not include gifts from family and friends. Instead, they focus on receiving baby samples from companies, groups, and even strangers.
1. Create Baby Registries
You don't have to host an actual baby shower, but you can register for one if you're expecting. Baby brands compete to be featured in these registries, so there's a huge chance that the baby samples included are either the most sought-after, popular, or newest items in the market.
Here are some of the most popular baby registries:
2. Join Rewards Programs
Rewards programs give back to consumers through points that are redeemable for other free baby products.
Like groceries, food, and toiletries that we buy regularly, you'll probably buy baby products as often as possible until they've reached toddler age or school age. So I recommend you take advantage of programs like the Pampers Club or Huggies Rewards Program.
Tip: Stick to rewards programs of stores and brands you like to accumulate more points and get more freebies.
Here are some programs you might be interested in:
3. Sign up for Subscription Boxes for Babies
With subscription boxes, you pay to receive a box of goodies every month for a specified number of months, usually 12 months. There's a subscription fee, but many of these companies provide the first box free of charge to entice you to sign up.
Examples of these are:
Note that some companies only offer free first month as a limited promo.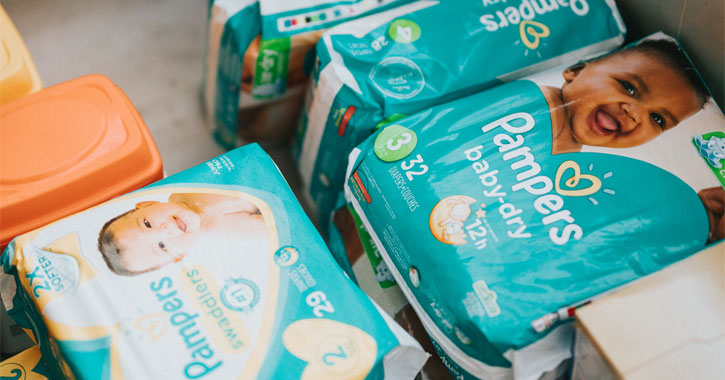 4. Keep an Eye on Baby Brands
Stalk the brands you use for your babies and see what free baby samples you could get.
These companies range from manufacturers of infant formula to breastfeeding accessories.
Some notable brands to check out:
5. Leads From Parent Communities
Parents often look out for one another, so if you can join parent communities whether online or in real life, this could be a game-changer when it comes to sourcing baby products or learning about soon-to-launch items in the market.
The community here doesn't really have to be official – they can be your neighbors, the acquaintances you greet at your local grocery store or a friend's friend. As long as they could offer solid advice and leads on baby supplies.
Sometimes, you don't even have to be physically close to your community. I, for one, have a group of moms on Messenger with whom I share shopping tips and get theirs. We're in different parts of the country, but we still find value in each other's advice and tips.
6. Free Baby Samples From Various Baby Stores
Baby and kid stores almost always have some sort of free baby samples.
Aside from the ones we've mentioned, take note of both big and small stores such as:
Claim your free box of goodies now!
It's a giant box of free samples and it comes right to your door at no cost.
Click here and get yours.
Free samples are not available year-round on stores like these, but they do offer them for special occasions, during sales, when new customers subscribe to their newsletters, a client's first order, and other special circumstances.
7. Coupons for Online Baby Stores
These won't actually give you free baby samples, but certain coupons can get you big discounts and essentially get the items for free and only pay for shipping.
Here are some coupons and shops you can use them in.
8. Social Media Giveaways and FB Buy Nothing Groups
Aside from bookmarking all the websites of your favorite brands and joining their newsletters or rewards programs, you can also follow them on social media.
You'd be surprised how much free stuff companies are willing to give away on Instagram, Facebook Live, Pinterest, and even on Twitter. You just have to raise your hand virtually, post something with hashtags, or follow an easy requirement to participate, then let luck do its thing.
If your social media of choice is Facebook (and nothing else), look for local "Buy Nothing Groups" near you. Many people give away things they no longer need for free. You might be able to receive some baby furniture and unused baby clothes this way.
9. Your Pediatrician's Office and Hospital
Baby brands like to display their goods in pediatrician's offices and hospitals to be seen by as many parents and prospective parents as possible, which is why they have plenty of free diapers on hand.
They're also likely to have free baby samples on hand if you ask, as well as connect you to groups and companies that give these out, too.
Get Free Baby Samples Today!
Parenthood is an amazing journey, but it can be expensive. Babies need a lot of stuff.
Hopefully, this list gave you plenty of ideas on where to get free baby samples to help offset some of the costs.