If you're a fan of video games and Microsoft Xbox is your console of choice, you're likely to be interested in getting free Xbox gift cards.
Don't Miss These Freebies...
Daily Goodie Box - Grab a GIANT box of free samples from some of the world's most popular brands.
Try Products - What's better than one giant box of free stuff? TWO giant boxes of free stuff. Join Try Products to get even more free samples shipped right to you.
Survey Junkie - Test new products, keep them, and get paid for your feedback. Sign up for free to get started.
Xbox gift cards allow you to download the hottest Xbox game titles, rent out films and TV shows, buy premium apps, and even buy Xbox Live Gold subscriptions and Xbox Game Passes.
Even third-party companies know how in-demand these gift cards are, especially if the target market is in the teens-to-young-adult crowd. These companies give away free Xbox gift cards for contest giveaways, survey prizes, or simply as rewards for answering a survey or reviewing their product.
How to Get Free Xbox Gift Cards
You don't need to go looking for a hundred ways to get free Xbox gift cards. You only just need a handful of legitimate, fail-proof methods and you're all good. The methods below are reliable and trustworthy—no scammy linkbaits or privacy issues.
You don't need to pay anything to join Microsoft Rewards. Once you sign up, your account will be connected to everything from your Xbox to your browser, especially if you downloaded the Microsoft Rewards browser extension as well.
Here are several things you should know about Microsoft Rewards:
Not available everywhere – The Microsoft Rewards Program is only available to users based in the US and 19 other countries.
Two earning levels – There are two levels to earn: Level 1 and Level 2. Everyone starts at Level 1 at the beginning of each month. If you earn 500 points within the month, you're then promoted to Level 2 and stay there until that particular month ends. Level 2 means you get to earn more points for certain actions and redeem points for prizes like Xbox gift cards at a discounted price. While you start back at Level 1 once a new month begins, the points you saved is still significant enough to be used for the new month.
Stats – Your available points are posted on your Microsoft Rewards page. You'll find the streak count (how many days you've completed the 'daily goals') and points breakdown.
If your goal is to get a free Xbox gift card from your points, you'll need 10,000 points (if you're on Level 1), or 9,300 points (if you're currently at Level 2 at the time you redeem it). You can also purchase a month's worth of Xbox Game Pass Ultimate or Xbox Live Gold membership.
2. Use Bing as Your Main Search Engine and Earn Points
One of the easiest ways to earn Microsoft Reward Points is to sign in to your Microsoft account and use Bing as your search engine.
If you don't know yet, Bing is owned and operated by Microsoft, so if you want to earn more Microsoft rewards, setting up your mobile and PC searches and making Bing your default search engine automatically earns you points every time you make any kind of online search.
PC search – You can earn 5 points for every search you do, but there's a daily cap (30 searches or 150 points a day). If you use your phone's browser, it will count as a PC search as well, but you have to ensure you're logged into your Microsoft account and that you choose to "view desktop site" via the 3 dots found on the bottom right of your browser.
Mobile search – Download the Bing search engine app, sign in to Bing using your Microsoft credentials, and use it to search when you're on the go. The max points you can earn through this is 100 points a day (that's about 20 searches for 5 points each).
Bing sometimes has promotions for online searches. For example, you can get double points for every search, so instead of the standard 5 points for every PC search, this could mean you'll earn 10 points a pop (or a maximum of 300 points a day).
3. Enter Contests on Your Xbox Dashboard
For those who haven't noticed this yet, you'll see promotions and contests directly from your Xbox dashboard. These look like a typical ad for Taco Bell or Doritos, but if you look closely at the instructions, you might see specific tasks like downloading a free game or watching a new game trailer to get a chance to win the prize.
Note that if you join a contest, getting a Microsoft reward/point isn't guaranteed, since winning is technically up to chance.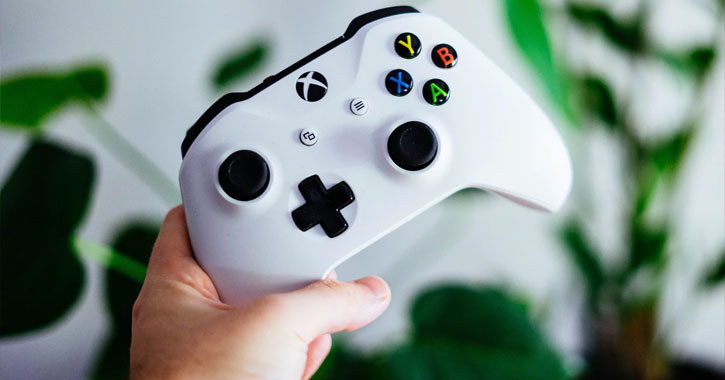 4. Join a Bunch of Rewards Apps/Sites for Free Xbox Gift Cards
Hundreds of apps and sites are around to let you earn rewards for doing extremely simple things like taking a survey, watching a short video, or playing mini-games. Once you earn enough rewards, you can redeem these rewards into Xbox gift cards (or other gift cards of your choice). Check these out:
Survey sites like PrizeRebel, Survey Junkie, and other similar sites focus only on surveys, which means you are rewarded points whenever you fill out a survey or questionnaire.
Reward apps like MyPoints, Grab Points, Idle Empire, Swagbucks,  give you more choices when it comes to the tasks at hand. So if you're not a fan of surveys, you can earn rewards by completing regular tasks like watching videos, downloading apps, and doing stuff most of us do already.
If you always purchase at stores like Nordstrom, Lowe's, eBay, Walmart, NewEgg, and other popular online stores, download the WikiBuy browser extension, agree to the terms, and then shop as you normally would.
The extension would pop up whenever an offer is available, click on the deal and use it for qualifying purchases. All rebates and cashback you get from online shopping will be shown on your account as "Wikibuy credits." Redeem them for free Xbox codes or any other gift cards you prefer.
How About Legit Free Xbox Gift Card Codes Generators?
Legit free Xbox code generators don't exist.
It's a pretty tempting offer indeed to be able to generate your own Xbox gift cards for free. But don't fall for these so-called free Xbox code generators.
None of them actually give away free Xbox codes. Instead, these generators try to steal personal information, or worse, your sensitive info like birthdays, addresses, card or bank details, and so on.
They may also infect your device with malware or with keyloggers to steal your login information for your emails, social media, and other important websites and applications.
Remember, if an offer sounds too good to be true, it usually is.
Where is the best place to buy Xbox gift card codes?
You can buy it directly on the Microsoft Store online and pay with your credit card, debit card, or PayPal account.
Claim your free box of goodies now!
It's a giant box of free samples and it comes right to your door at no cost.
Click here and get yours.
Xbox gift cards and Xbox codes work the same – except the cards are physical cards and codes are just digital. With Xbox digital codes, expect the game codes to be delivered to your GAME account email. This means you can find, purchase and play your favorite Xbox titles without ever having to leave your gaming chair and without any delays.
Final Thoughts
The methods of earning free tasks are not really hard to do (some of them can even be left on autopilot and you'd still earn points), you won't notice the points piling up. Some people may even enjoy themselves as they play their way for more points.
Unfortunately, all of these methods cannot earn points overnight, which means if you're in need of free Xbox gift cards ASAP, you have no other choice but to buy them with real cash.
Other free gaming gift cards you can get
If you also have a PlayStation, you can also get free PS4 gift cards and codes through some of the methods I listed above.
Also, if you play computer games, you'll probably appreciate knowing how to get free Steam gift cards as well.