If you're a gamer, you're probably on Steam every day looking at the new releases. But if you spend on these games every day, you'll very quickly run out of cash. The good news is that you can get Steam gift cards and wallet codes from legit sources.
Don't Miss These Freebies...
Daily Goodie Box - Grab a GIANT box of free samples from some of the world's most popular brands.
Try Products - What's better than one giant box of free stuff? TWO giant boxes of free stuff. Join Try Products to get even more free samples shipped right to you.
Survey Junkie - Test new products, keep them, and get paid for your feedback. Sign up for free to get started.
Steam is probably the most popular gaming digital marketplace with over 30,000 existing games and software on its store. They have their own game launcher, a massive community of gamers, and almost every title imaginable.
While Steam does let users try out about 100 games from the library at any given time, it isn't the same as choosing the game you actually want to play. So if you're here to try and find out where you could get free Steam gift cards, read on to find out how!
Free Steam Gift Cards and Steam Codes
First, let's talk about your Steam Wallet.
It is essentially a digital bank created by Steam enabling its users to store funds here from various sources that they can use to buy games and in-game items from Steam.
To place funds on a Steam Wallet, you can either transfer funds from a bank account, Steam gift cards, or Steam wallet codes.
Steam gift cards can be bought at various brick-and-mortar stores, such as electronic retailers, convenience stores, game stores, and grocery stores. You have to scratch the back to access the code and then redeem them on the Steam website or the Steam app.
You can also buy Steam Wallet codes that can be sent electronically, such as through SMS or email.
Unfortunately, there are scammers who utilize the Steam wallet facility to trick desperate gamers into downloading virus-infected programs or providing sensitive personal information in exchange for free Steam gift cards.
I assure you, this list contains only legitimate ways to earn free Steam gift cards and wallet codes.
It doesn't mean that you don't have to work or do something in return, but these are all legal and legitimate ways.
25 Ways to Earn Free Steam Gift Card Codes
Yep, there are actually dozens of ways you can work your way for free Steam credits. Below are several ways, grouped into the type of site/companies.
But, let's start with the easiest and fastest way to get a free Steam gift card.
Simply, click here and create an account at Swagbucks.
You'll instantly be credit with a $5 signup bonus. You earn points by simply searching the web, watching videos, or doing any number of easy things online.
You can then take that money and redeem it for Steam gift cards. It literally doesn't get any easier than this.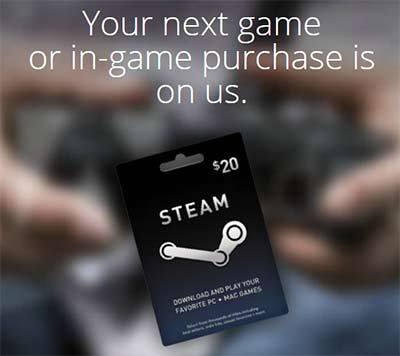 Here are several other ways of earning them as well:
MARKET RESEARCH
1. Opinion Outpost — Get $10 for joining, then earn more easy cash by sharing your opinion on online surveys.
2. Surveytime — Get $1 simply for signing up, and earn $1 for every survey you complete. Surveys are assigned based on your profile.
3. Pinecone Research —This company pays for consumer opinion of products. Every survey answer gets you to earn points, which you can then redeem as cash or cards to pay for your Steam cards.
4. Market Agent — MarketAgent has over 2 million users worldwide. Each survey takes 15 minutes to complete and earns real cash per survey. Cashing out as gift cards or PayPal is available.
Claim your free box of goodies now!
It's a giant box of free samples and it comes right to your door at no cost.
Click here and get yours.
5. LifePoints Panel — Do surveys online (or via the app). Just like other market research companies, you'll get paid simply by sharing your feedback about a particular product or service. You get to save virtual points called LPs, which you can then redeem for PayPal or e-gift cards. Of course, it's up to you to buy your Steam gift cards from the funds you earn.
REWARDS PROGRAMS
6. Inbox Dollars — Join the site and get $5, no questions asked, then earn more money by answering a survey, watching videos, and completing other small tasks online. Convert the funds you collect to cash or gift cards like Steam.
7. PrizeRebel — Complete surveys and share feedback on stuff like the other 8 million users on the site. Each task completed pays you points, which you can convert to buy Steam gift card codes, Walmart gift card, Amazon gift card, iTunes credit, or other payment methods.
8. PointsPrizes — This site pays users to answer surveys and perform other tasks like watching videos or browsing the web. PointsPrizes support a wide range of gift cards, including Steam.
9. GrabPoints — Get paid to watch TV, download apps, and complete other no-brainer tasks. Each completed task gets you points that you can exchange for Steam codes or PayPal money.
10. Rewardia — Play games, complete surveys, and earn points that you can exchange for various gift cards, including Steam gift cards. You'll need a minimum of 5,000 points or the equivalent of $5 to redeem these points.
11. Idle-Empire — This is another site that will reward you for doing tasks like watching videos, answering surveys, referring other users, and other quick tasks. They even give you bonus points for simply signing up. Earning 10,000 points is equivalent to $1.
LOYALTY PROGRAMS (Gaming)
12. Mistplay — This app is a loyalty program for mobile gamers that rewards you for playing games that they recommend. Earn Units that you can exchange for various rewards, such as Google Play credits, Prepaid Virtual Visa credits, and of course, free Steam gift cards. They've given over $17 million to date.
13. Gamehag — Unlike Mistplay, which is only for mobile games, Gamehag is a loyalty program that allows you to earn points (called Soul Gems) for playing mobile and PC games. Once you have enough Soul Gems, you can redeem them for free Steam gift cards, as well as free games and in-game items.
14. PlayNANO — Complete short tasks like watching videos, answering surveys, and playing games. Get paid in Nano, which is a cryptocurrency that you could then convert into Steam wallet codes.
15. Bananatic — Bananatic offers plenty of free-to-play online games to test and review, for which you can earn "bananas" in exchange for free gift cards.
16. GCLoot — GCLoot is made for gaming enthusiasts, as it allows users to choose which tasks they want to do and get to choose which rewards they get for these tasks. Start earning points today via completing surveys, watching videos, and accomplishing other minor online tasks. Accumulate at least 5,000 points to redeem a reward, including a free Steam gift card.
CASHBACK SITES
17. Rakuten — Known formerly as eBates, this cashback site works by letting you shop as you normally would in over 2,500 stores and reward you with rebates through your PayPal account or by check. Use your rebate to get Steam gift cards or wallet codes for free. Joining the site even gets you $10 without any fuss.
18. Dosh — You need to enter your card details, but once you do, all your shopping will automatically earn you real cashback. You can then transfer your cash to your Paypal, Venmo, or bank account.
19. Tada — Previously known as ShopAtHome, Tada gives you cashback on your grocery shopping and other purchases, which you can convert into free Steam gift cards. They offer a $10 bonus for signing up when you spend at least $25 through their cashback portal within 30 days of signing up.
20. My Points — Join now and receive a $10 gift card. Take the first five surveys and earn $5 quickly, then use the site to earn cashback as you shop. All collected points can be converted into Steam credits in the future.
21. BeFrugal — This cashback site gives you $10 upon sign-up, then about 40% cashback every time you shop from over 5,000 stores. Once you accumulate enough points, you can redeem for all the free Steam codes you want.
22. Ibotta — One of the most popular cashback sites around, Ibotta has been exchanging rewards for cash just for your regular shopping. You get up to 30% cash back from popular retailers like Best Buy, The Home Depot, QVC, Walmart and thousands more.
23. Gift Card Granny — If you need to buy any kind of gift card, try purchasing it from Gift Card Granny so you could earn points. The more gift cards you buy, the more points you gain, and the easier you can earn Steam gift cards.
24. Earnably — Redeem your points for instant cash rewards or free gift cards from your favorite brands and retailers.
25. Receipt Hog — Snap & track receipts to manage your budget & make easy returns. And share feedback with brands about what you buy and why. In exchange, you earn rewards, which you can claim for Steam credits.
Play Games While Earning Free Steam Gift Cards
This method of earning Steam codes is not easy, but if you're not a fan of surveys and other quick tasks and prefer to play games instead, you still have a chance to get free Steam gift cards.
Many Steam users report in the in-house community that they were able to play a ton of hours in a particular game, save up weapons or accessories, and then sell them to other gamers in the community market.
You'd be surprised to know that some gamers actually bite and pay for hard-earned gaming items. It's a great way to increase Steam wallet funds.
Check these forums as well…
Various Reddit communities are great places to connect with other gamers and earn Steam wallet codes, too.
FreeGamesOnSteam has all the new games on Steam, SteamGameSwap can bring down your videogame expenses by providing a way to swap games you don't want for games you do want, and SteamGiveaways hosts giveaways that you can join to have a chance to win Steam wallet codes.
Start Getting Free Steam Gift Cards Today!
Steam is a fantastic place for gamers, but it can be a huge drain on your wallet if you're not careful with spending, especially during the summer and winter sales events.
Thank goodness for free Steam gift cards and codes that you can earn legitimately and use to offset your budget for online games.
If you play on other platforms, make sure you check out how to get free PS4 gift cards and free Xbox gift cards as well.
Or if you need to buy something else other than games and in-game stuff, check out how you can get free gift cards from Walmart, Target, and even Visa.