If you're anything like me, remembering to get a greeting card and mailing it out to a loved one for a special occasion is a chore that can easily get overlooked, so thank goodness for free eCards.
Don't Miss These Freebies...
Daily Goodie Box - Grab a GIANT box of free samples from some of the world's most popular brands.
Try Products - What's better than one giant box of free stuff? TWO giant boxes of free stuff. Join Try Products to get even more free samples shipped right to you.
Survey Junkie - Test new products, keep them, and get paid for your feedback. Sign up for free to get started.
Greeting cards are one of the great ways to let your friends and family know that you're thinking about them and wish them well, whether they live in the next town, the next state, or in another country.
So I rounded up this list of free eCards that will allow you to send virtual greeting cards right on time without having to use up precious trees for the paper and best of all, for free!
30 Ways to Send Free eCards Online
While some of these sites require you to register before you send out a free eCard, none of them will cost you any money to actually send.
I did include a few sites at the bottom of this list that let you send out a free eCard without having to sign up first.
123 Greetings has a wide selection of free greeting cards, as well as free animated eCards for all occasions (or even if there's no special occasion at all).
You can customize each card with your message right from their easy-to-use editor. The site also allows you to send an eCard to as many as 100 recipients, and the cards can be sent right away or scheduled for up to 60 days in the future.
You don't have to register before you can start sending eCards from the site, but if you do, you can have access to the extra features like event notifications, and you can import, store, and access an unlimited number of contacts from an online address book.
With Greetings Island, you can easily customize the best free eCards for every event. You can also upload your own design, and customize your card with your words, stickers, and images.
Once you are done with your custom eCard, you have the option to print it out, send it over email, share it on WhatsApp or Facebook, or download it as a PDF.
What's unique about Ojolie Cards is that it allows you to send free video eCards that you can personalize with your message.
To send an eCard, simply choose from their card collection and select a video card to see it in full-screen view. After that, click on the "SEND THIS CARD" button so you can customize the message before sending the card.
You can send Ojolie's free animated birthday cards and cards for all occasions to a single recipient, or you can send them to a group of people.
And just like the other sites on this list, you also have the option to send the card at a later date.
You will also know when the recipient receives the card.
Looking for a Christian-inspired free eCard site?
CrossCards offers faith-based messages with categories such as, "Church Family," "Care and Encouragement," "Scripture," and "Love."
The free eCards from this site can also be scheduled to be sent sometime in the future.
Open Me cards are sure to bring joy and comfort to the recipients with their cute and colorful illustrations.
You can browse the eCards by occasion, or categories, such as Animals, Food, Baby, Get Well, Photo Cards, Funny, Love, and a lot more.
My favorite thing about Open Me is that the designers of each card are featured prominently.
If you love the look and feel of traditional paper greeting cards, Punchbowl is the site for you.
Claim your free box of goodies now!
It's a giant box of free samples and it comes right to your door at no cost.
Click here and get yours.
Check out their available eCards, and you'll see exactly what I mean. Their cards can also be personalized with your message and you can add accents such as rubber stamps, custom postage, and envelope liners.
You can even attach a gift card if you want.
Funny and colorful with a touch of silliness – this perfectly describes Doozy Cards.
Doozy eCards are for people who love memes: these eCards have the meme vibes for sure.
If you are looking for hilarious video eCards that you can personalize with your message, you'd better give this site a try.
This website has been around since 1995.
With E-Cards, you can express your warmest greetings to your friends and loved ones while showing your support for the wildlife and the environment.
You can also customize the eCards by adding your message and music to the eCard.
What I loved about eCards is the ability to schedule them way ahead. Yes, you can send it at a future date and no longer "forget" a loved one's birthday again.
WWF eCards allow you to send eCards to your friends, family, and special someone to show that you care about wildlife and the planet.
Simply choose an eCard from the fun and meaningful selections under different occasions, add your custom message, and send it right away or at a later date.
Do you want to send someone an e-Hug? Check this bear hug design now.
Canva is this day and age's go-to graphic design platform, and now you can also easily whip up a fun and creative eCard for any occasion.
You'll definitely enjoy creating your unique eCard as much as your recipients will have upon receiving them.
The best part about Canva?
All the photos, fonts, music, and other content you'd like to use on your eCard are totally free to use. You won't have to worry about copyright issues when creating a personalized eCard via Canva.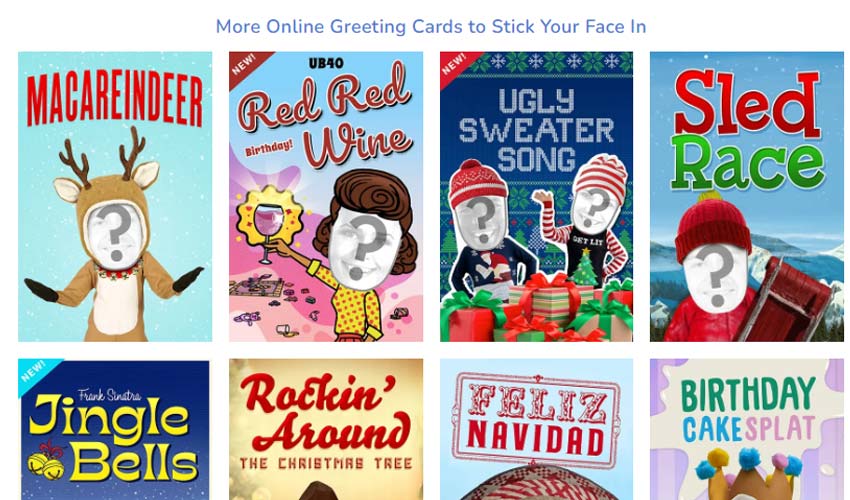 Why limit your greeting to photos when you can send free video eCards instead?
I mean, who hasn't seen and loved the 'Elf Yourself' video cards?
JibJab knows video is the way to go when it comes to e-cards, which is why they offer exciting video cards for various occasions.
More than a century of providing greeting cards later, American Greetings is still here, providing paper cards, printables, party supplies, gift wrap, and of course, ecards.
You can personalize your message, the font, size, and color, and you can get them a gift card, too.
Paperless Post prides itself on its beautiful templates and user-friendly card maker for custom designs.
If you want more templates, it'll cost you, but not too much. You can buy 25 coins for $10, and paid ecards cost around 2 coins each.
You know those office group cards for someone's birthday, promotion, or new baby, that everyone writes in and signs?
Kudoboard is the digital equivalent of that.
Start a digital group card on the Kudoboard website, select the recipient, add messages, photos, GIFs, or videos, then invite others to add their content as well. When it's done, you can send it digitally or print it as a poster.
Kudoboard is free for up to 10 board posts, and you can choose from more than 100 backgrounds.
With Smilebox, you can quickly create free e-cards, as well as invitations, slideshows, collages, flyers, and then share them with your friends and loved ones.
Aside from their beautiful designs, you can add your own text, photos, and even music to jazz up your ecards.
Like CrossCards above, Dayspring is a Christian-themed shop with a variety of print products.
The eCards section, however, is free to use and share.
Dayspring features shareable scriptures, religious birthday greetings, and other faith-based designs.
Technically, Blue Mountain is a paid eCard company, but since it has a 7-day free trial, you can create all the e-cards to your heart's content while you're testing out the platform.
You can attach electronic gift cards to your e-cards if you like.
Cancel before the 7-day trial ends so you won't be charged.
Ecards on Greeting Island look extra-sleek. You have an option to choose from a library of premade greeting cards, or upload your own design.
Once you're done, simply download the file as a PDF and send it via email, text message, or Facebook.
To unlock over 5000 designs, remove ads from the workspace and ensure no watermarks on the ecards, you could pay a minimal fee to go premium.
It's only fitting that this store, which sells celebratory flowers in bouquets or other arrangements, chocolates, gift baskets, wine and cheese pairings, baked goods and other edible gifts also has a free ecard maker.
On the eCard library page, you can easily see the free designs available. Just customize it with your message, and press send. 1800flowers delivers the free ecard instantly.
Take advantage of the free trial offered here. 2050.cards has a huge library of moving ecards – they're awesome and tackle all sorts of events from birthdays to anniversaries, graduations to pregnancy announcements, and more.
Creating an eCard is pretty straightforward – I love checking out the card info and artist bio below the design (some ecards have composers paired with the artist).
5 Sites Where You Can Send Free eCards Without Having to Sign Up
If you are looking for witty, naughty but not vulgar eCards to send over to your friends or loved ones, Wrongcards has got you covered.
To give you an example, one of the eCards under the "Flirting" category has this to say, "Now that we have done everything else, the next thing I'd like for us to do is foreplay."
There's a pregnancy greeting eCard that says: "I'm relieved to hear you are pregnant and not just eating too much cake." 
And while you cannot edit the preexisting text, you can still add your personal message to the eCard.
If you are fond of memes, chances are you've already seen some of the favorite eCards from this site. So I guess I don't have to reiterate how funny, witty, and sarcastic their eCards are.
Let's take this eCard for example with a text that says, "Just wanted to be the first one to wish you a happy birthday so I can feel superior to your other well-wishers." Sounds competitive yet sweet, right?
Do note that Someecards sway to the adult-themed, so you may see cursing or grown-up content featured on these cards.
Are you curious as to where do the GIF greetings on Facebook come from?
Well, GIFocard is one of the popular sources of these kinds of greeting cards. With GIFocard, you can also send instant GIF eCards on Messenger, WhatsApp, SMS text message, or email.
Got Free Cards allows you to send free animated eCards for all occasions, or even if you just want to show your love and support to anyone during an ordinary day.
Kisseo has been around for two decades, and they continue to be a great website for sending out free ecards.
The best thing about it is that you don't need to create an account to start making your ecards and sending them.
However, signing up for an account is free and allows you to save the ecards you've sent as well as your recipients' addresses and birthdays.
Free eCards from Print Companies
It's only good business that print companies make ecards readily-available for printing to  their customers.
This option is perfect for those who require multiple copies of a particular eCard or if you need to have the ecard printed professionally.
Note that the ecards designs here are usually free, but some may charge for printing and shipping. 
This company combines the convenience of free ecards with a full-blown greeting company. It lets you pick a design, customize it to your heart's desire, and then they'll take care of the rest (printing, stamping and mailing the ecard to your recipient).
What's great about Together Cards is you can make one ecard, let multiple people sign it, and then have it delivered to a single person.   Such a cool concept!
This has the same concept as Together Cards.
Ecards are available for US-based customers, while printed versions are only exclusive to the UK.
Here's a unique idea from Canada-based hospital, Hôtel-Dieu Grace Healthcare.
You pick an e-card from their catalog and they'll deliver it as a real card to a friend or family member staying at the facility. Everything from design, printing to delivery are free of charge.
Got a double-sided ecard you want printed by a pro? Look no further, Moo.com can print any ecard for you.
Why not include a gift with those free eCards?
Sending an eCard to show how much you care for the other person is more than enough, but who doesn't appreciate a good present?
I won't judge you if you keep any of those freebies for yourself though.
Read some of my other posts to see how you can score some more freebies to regift, including free chocolate, free Target gift cards, and free coffee.
If you're interested in other printables, here's a good resource of free posters or dozens of free bookmarks.