For coffee lovers like me, the only thing better than the smell of fresh coffee, is receiving free coffee samples.
If you're up-to-date with coffee freebies, you know that national chains like Starbucks, Krispy Kreme, and Dunkin Donuts occasionally give out free coffee. This is especially true during coffee-focused holidays such as:
International Coffee Day (October 1 each year), which began in Milan as a mission to help coffee farmers market their products.
National Coffee Day (Varies between countries) – Many counties celebrate this in late September, just a few days before the International Coffee Day, but other countries follow their own traditions.
Many cafes are aware of these special "holidays" and share their love of coffee to customers.
In 2018, Starbucks gave its loyal customers a chance to Buy 1 Take 1 Frappuccino throughout its US branch.
Don't Miss These Freebies...
Sign up for all 3 sites to get regular freebies in the mail.
Daily Goodie Box - Grab a GIANT box of free samples from some of the world's most popular brands.
Product Testing USA - Work with companies like Sony and Apple to test out their latest products!
Inbox Dollars - Free $5.00 for signing up! Get paid to share your thoughts.
If you completely missed Coffee Day and want to get in on the fun next time, here's everything you need to know about free coffee from your local coffee shops, and how to receive free coffee samples straight to your home all year-round.
18 Places to Get Free Coffee
The following companies give away free cups of coffee during special occasions like their "birthdays," national coffee day, or the official international coffee day:
Dunkin Donut – Visit the branch nearest you on National Donut Day (June 7) and National Coffee Day (September 29). During donut days they usually give the coffee for free, but promos on coffee day varies. You can get super-discounted for a cup of coffee, or get a cup free with a minimum purchase. As a member of DD Perks, all your Dunkin' Donuts purchases can get you 200 points, which is redeemable for a free cup of coffee.
7-Eleven – Download the 7-eleven app, or join 7Rewards. Once you're a member, 7-11 gives your 7th cup of coffee or soda free of charge after buying six qualifying cups. This is a year-round reward. The company also joins national coffee day during end of September.
Starbucks – Sign up for Starbucks Rewards and you can earn points toward free coffee every time you visit. They also participate in both national and international coffee days. Plus there are promos throughout the year that you can redeem with no purchase necessary.
Barnes and Nobles Cafe – Participates in the annual national coffee day, but the free coffee may need to be paired with something bought.
Krispy Kreme: In participating branches, Krispy Kreme gives away free coffee and one Original Glazed Doughnut during National Coffee Day (September 29 and sometimes even through the nearest weekend). You don't have to purchase anything. Like Dunkin Donuts, they may also have free coffee promos during National Donut Day, so check it out.
Biggby Coffee – Choose from a cup of BIGGBY®Best, Hazelnut, or Mocha Java  (up to 24 ounces) all day during National Coffee Day.
Peet's Coffee – You can order their coffee from their online store, but if there a cafe near you, try to visit them when they host tasting of their new coffee blends or seasonal flavors for free. Check the schedule for select locations.
McDonald's – McDonald's do not really participate in Coffee Day, but if you download and use McDonald's app,  you can get a free cup of coffee (or any other drink) after buying any five McCafé drinks.
Bojangles' – The company discounted its signature Bo'Town Roasters coffee to $1 a cup beginning September 29's National Coffee Day up to the end of December 2019. If you're a fan, check back to the site to see more promos.
Caribou Coffee – Become a perks member and every time you buy a cup of coffee, you'll be rewarded points, which you can redeem as a free cup in the future. Rewards members also get a free cup of coffee during their first visit (as a member) and on their birthdays.
Cumberland Farms – If you buy the Premium Cookie Bites for $2, you can get any size of hot or iced coffee. Visit the store at 10 am (this may vary depending on the season, so check the site for updates).
Hardee's – During September, the company gives away free coffee coupons to new customers who sign up for the e-newsletter.
Kolache Factory – Join the eClub and receive a "Buy 3, Get 3 free" coupon. On National Coffee Day, you can get a free cup of Katz Coffee (one per customer) even without purchase. Just mention 'National Coffee Day' at the register to get your freebie.
LaMar's Donuts & Coffee – This coffee shop participates in National Coffee Day and a special day honoring cops with a 'National Coffee With A Cop Day'.
PJ's Coffee – This company gives free coffee during Veteran's Day, National Coffee Day, and International Coffee Day
The Coffee Bean & Tea Leaf – Participates in all the "coffee day" events, plus sometimes give away a cup of coffee with bakery purchase.
Tim Hortons – Download the app, redeem rewards for free coffee once you reached minimum points. This chain also joins "Coffee Day" celebrations so check back to their site around September.
Wawa – Become a Wawa Rewards member to receive a free cup of coffee during National and International 'Coffee' Days.
Aside from these popular coffee holidays, the demand for coffee rises near Christmas, so expect more places to feature their own coffee promos in December.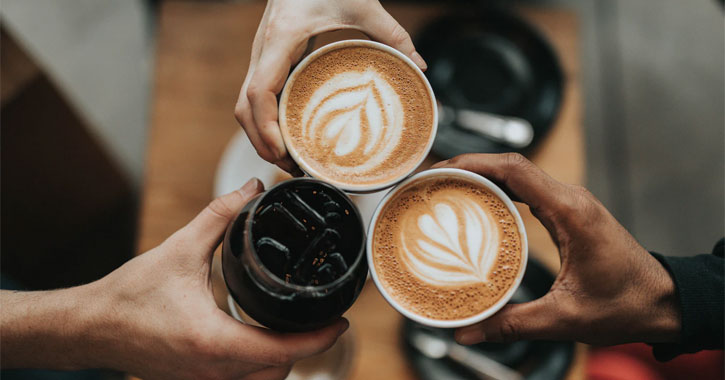 Watch out for new coffee shops in your area
Make sure to sign-up for your local community's FB page, website, or other sources of news and updates, so you'll be informed if new coffee shops will open up soon. These coffee shops often give away free cups of coffee at the grand opening.
If you have a local coffee shop that creates their own blend regularly, you can also ask for tasting schedule and see if you can try them out for free. Sometimes, coffee houses also give away excess coffee by closing time, so if you're passing by a shop on your way home, they might give you a cup of coffee on the house (instead of disposing coffee that may not be fresh for selling the next day).
Check the Fill-Up Stations You Pass by
When you pass by your local gas stations or go on a road trip, make sure to keep an eye out for signs that offer free coffee. These fill-up stations usually do this if you paid $x amount for gasoline.
Sometimes, the government even keeps travelers awake by offering free coffee during business hours. Oregon is a major example of this kind of year-round promo, but you'll discover soon enough that even private companies do this.
For example, the Pilot Flying J gives away free coffee to drivers who pass by. Just make sure to download their app first.
Free Coffee Beans and Tea Samples
The following companies send out free coffee samples by mail. Most of the time, you'd have to fill out a form to send a sample request. Sometimes, you might need to answer a survey too, depending on the company's requirements.
Seattle's Best Coffee – When Starbucks bought Seattle's Best Coffee, the coffee shops were reduced significantly with branches mostly left in other countries. However, the coffee beans remain and are still available in over 20 states. Check the  Facebook page for some free coffee ground or bean sample.
Revital Coffee Products – Fill up this form to receive coffee bean sample
Kona Red Mountain Coffee – The company ships free coffee samples worldwide, but process USA, Canada, Australia, UK, EU-bound requests first. One sample per person.
Almost all the big-named coffee brands like Nescafe, Gevalia, Keurig, Folgers, or Tasters Choice (among many others) send out free coffee samples by mail.
Sometimes, this is available as long as you send a request on their official website, Facebook page, or any other customer service platform. Like other kinds of free food samples delivered by mail, these companies may also just open up free sample requests for a limited time.
The Bottom Line
Requesting free coffee samples by mail can be tricky, but getting free coffee from stores is a pretty straightforward process. The months of September to December are filled with free coffee promos, so make sure to note them down in your calendar.
Remember, most coffee chains have their rewards system in place. Free coffee is often tied to these rewards so if you frequent these places like Starbucks or Tim Hortons, you can regularly get free cups of coffee throughout the year.
Did I miss any other coffee house that gives away a cup every now and then? I'd love to hear all about them..