Everybody loves free stuff, but getting free subscription boxes (whether just for the first month, or every month) is definitely some kind of special.
Don't Miss These Freebies...
Daily Goodie Box - Grab a GIANT box of free samples from some of the world's most popular brands.
Try Products - What's better than one giant box of free stuff? TWO giant boxes of free stuff. Join Try Products to get even more free samples shipped right to you.
Survey Junkie - Test new products, keep them, and get paid for your feedback. Sign up for free to get started.
Almost all subscription box services require you to sign up and hand over credit card information.
The two exceptions I've found are Daily Goodie Box and Try Products. They both ship out giant boxes of free stuff with just your name and address.
Otherwise, you will have to turn over some extra information in order to get some free boxes.
How do Free Subscription Boxes Work?
The steps vary between companies, but they generally follow these steps:
Sign up. Create a profile with your address, photo, and other information.
Choose a plan. (if there are options available)
Check out. In some cases, companies include their 'free subscription boxes' as part of their online store, so you'd have to add to your online cart and checkout before adding your credit card details.
Pay for shipping fees. Not all companies shoulder the shipping and handling of your free subscription boxes, so be ready to pay for shipping fees especially if the box you'll be receiving is a bit on the bulky side.
Enter your credit card details. Yes, the first month or two is free, but the company is banking on the possibility that you'd love their product(s) so much that you'll continue the subscription beyond the free months and the payment method is already in place.
Wait for delivery. Depending on the subscription plan you signed up for, you'll get them on a weekly, monthly, quarterly, or yearly basis.
Almost all subscription boxes can be "paused" (that is, skip a month or two of subscription fees) or canceled (stopped completely) if you wish.
25 Free Subscription Boxes to Try
Get one, or get all. The choice is up to you. I've categorized them so I could easily add new subscription boxes as I find more.
Free Drink and Food Subscription Boxes
The following are just free food samples, except they're carefully hand-picked and grouped with other similar products.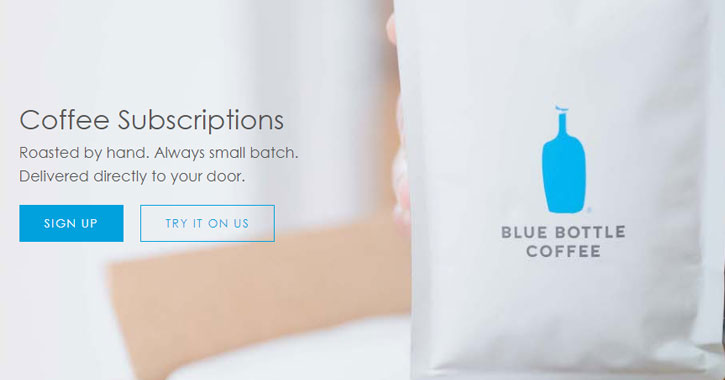 With Blue Bottle Coffee, you can try their famous coffee and espresso blends on them. You just need to cover shipping.
What's in the box: For the free trial, you can choose from either the espresso assortment, a blend assortment, or a single origin assortment.
Price: Trial sample is free, and regular subscription plans start at $11 a week.
Shipping: At-Home subscriptions have a flat, per-shipment shipping charge of $5, or $4 for just one 6oz bag.
2. Dollar Snack Club by SnackNation
SnackNation is a healthy snack delivery service where you can order snack boxes for yourself and everyone else in your life.
Dollar Snack Club is an offshoot of this service that sends you 6 snacks monthly at a $9.99 value for only $1 in exchange for your feedback on the snacks that you received that month. As long as you answer the surveys, the price of the box remains at $1.
It's not really free, but at a 90% discount, it's pretty close.
What's in the box: Six better-for-you snacks
Price: $1 per month
Shipping: $3.99 per month
3. Bean Box
Bean Box is a coffee subscription box, where you can customize your preference and frequency of delivery, then receive expertly-curated coffee blends straight from your home.
What's in the box: two (1.8 oz each) expertly-curated coffee blends
Price: get a free tasting flight, next order depends on your custom plan
Shipping: free for every delivery
Free Health & Beauty Subscriptions Boxes
Walmart carries a lot of beauty brands, so it would be easy to promote products on this subscription box service, which is sent 4 times a year. The box not only includes product samples but also includes instructions.
What's in the box: The contents would vary, but mostly includes products for the skin, hair, and cosmetics.
Price: $6.98 per box (plus tax); you can think of this as the shipping fee for a free subscription box
Shipping: Only in the USA
5. BirchBox
This beauty subscription box is also a popular choice if you're interested in sampling the newest hair care, skincare, makeup, or fragrance in the market. The items included in the box are sample-sized, but you can always buy the full-sized versions on BirchBox on top of your regular box.
What's in the box: Receive 5 free mystery grooming samples
Price: First box comes free with several different products; the next ones cost $15 per month
Shipping: Free for new members from the US
6. Hubble 
Claim your free box of goodies now!
It's a giant box of free samples and it comes right to your door at no cost.
Click here and get yours.
With Hubble contacts, you only have to answer the quick questionnaire to join the community and have contact lenses replaced automatically each month.
What's in the box: Comes with 15 pairs Hubble lenses
Price: $1 for the first month; $36 per month afterward
Shipping: $1 for the first month; $3 per month afterward
7. Curology
If you're having skin problems (acne, clogged pores, rashes, breakouts, wrinkles, etc.), Curology creates skincare boxes especially for you.
What's in the box: Trial products sent depends on your current skin issues.
Price: Free for trial, $19.95 per month after the free month
Shipping: $4.95 in shipping + handling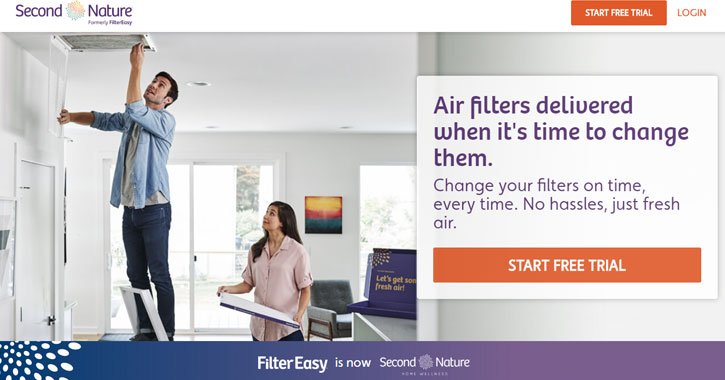 You may think this should be under the Home category, but since having clean air is a matter of health, I included this one here.
Formerly named Filter Easy, the company provides monthly furnace and air filter replacement. You just have to choose the size and frequency (options include every month, every 2 months, every 3 months, or your own custom schedule).
What's in the box: Includes one air filter for each delivery
Price: Free for the first air filter; starts at $15 for the next ones
Shipping: Free
9. GLOSSYBOX
This makeup and skincare subscription box sends out your first "glossy box" free of charge, but there's a catch: you have to purchase a 3-month plan first.
What's in the box: Contains 5 hand-picked beauty products worth at least $60
Price: You'll be charged $58.50 for 3 months, with a free first month included in the deal
Shipping: Free
10. Ipsy
Try new makeup and other beauty products from popular brands and independent companies. Each Ipsy box delivered gets you five sample-sized products.
What's in the box: Get 5 beauty products (type or brand varies depending
Price:  $13/month
Shipping: Free for US, USD $2.95 for Canada
This subscription service to eco-friendly household products include several awesome brands like Seventh Generation, Mrs. Meyer's Clean Day, and Method.
What's in the box: A selection of environmental-friendly household cleaning products
Price: Free bundle for new subscribers, then $19.99 per year
Shipping: Free shipping for both the gift and succeeding paid boxes
12. Simply Earth 
Simply Earth creates these famous Recipe Box plans.
100% certified pure oils and natural ingredients are included in each Recipe Box, as well as instructions to create them into body wash, lip balm, deodorant, and other oil-infused products.
What's in the box: pure oils
Price: $15 off your first box
Shipping: Free shipping for all orders
Free Subscription Boxes for Men
The Dollar Shave Club is one of the earliest companies that made subscription boxes popular. They don't have a free trial box, but they do have a 30-day money-back guarantee, so if you cancel before the month is over, they'll refund your costs.
What's in the box: Starter set contains 2 six-blade cartridges, handle, prep scrub, shave butter, and post-shave dew, good for two weeks; next boxes are customizable
Price: Starter set is at $3; price of next boxes vary depending on products you choose
Shipping: Free
14. Harry's
Harry's is home to affordable men's grooming products, and with a monthly subscription box, you'll get awesome deals without thinking about it anymore. Similar to Dollar Shave Club, they don't have free trials but have a 30-day money-back guarantee.
What's in the box: Starter set contains a five-blade razor cartridge, handle, shave gel, and a travel blade cover
Price: Starter set is at $5; price of next boxes vary depending on products you choose
Shipping: Free
Works similarly to Dollar Shave Club, but their products are for cleaning, growing, and softening a man's beard instead of shaving it.
What's in the box: Free box contains trial size oil, trial size balm, beard wash, beard balm pick, and a sticker
Price: First box is free, Badass Beard Club paid subscription starts from $14.99 per month to $43.99 per month.
Shipping: $3.69 for free box; free shipping for next boxes
16. Gilette
Of course, Gilette is getting in on the subscription box game – they've been losing customers to Dollar Shave Club since it launched.
What's in the box: Each starter kit includes a bestselling Gillette blade, a handle with Flexball™ technology, and a travel case.
Price: Free for starter kit, next box costs $10 per month
Shipping: Every subscription order ships free.
17. Lumin
Lumin sends out curated products based on your skin type and skin problems, such as acne, wrinkles, dry skin, and so on.
Your first trial box is free; you have 30 days to cancel the subscription so you don't receive the next boxes.
What's in the box: Depends on type of set (Age Management, Classic Maintenance, Correction Trio)
Price: Trial box free (good for 1 month); $48 per box afterward (every 2 months)
Shipping: $7.95 for free trial; free shipping for next boxes
Free Clothes Subscription Boxes
18. Gwynnie Bee 
This is one of the earliest rental boxes where you can rent clothes of any size from all the designers available. You can exchange the clothes without extra charges.
What's in the box: Different products each month
Price: $0 for the first month; $69 per month afterward
Shipping: Free
19. Kidpik
This kids fashion subscription box makes shopping pretty easy for your kids sized 2T to 16. Sign up with your name and email address, take the style quiz, enter your shipping details, and wait for the box to be delivered.
What's in the box: Get 3 head-to-toe mix & match coordinated outfits including shoes personalized for your kid
Price: Average clothing box is $98; return everything within 7 days if you don't like anything, but you pay for what you keep.
Shipping: Free, even returns
20. Nadine West
Similar to Gwynnie Bee, Nadine West is a styling service for women where you receive 4 to 6 pieces of clothing a month, which you can return or keep. You only pay for shipping and for clothes you keep; no styling fees.
What's in the box: Receive different clothes ranging from sizes small to 3XL.
Price: Receive your first box free; clothes cost from $10 to $30; pay only for what you keep;
Shipping: Free for trial box with discount code NADINE; $9.78 for next boxes
Free Jewelry Subscription Boxes
21. Rocksbox
Rocksbox works a lot like the clothes subscription boxes above, but for jewelry. For $21 per month, you get to receive 3 pieces of designer jewelry and return them when you're ready for more.
The $21 per month goes toward your credit to buy jewelry that you want to keep.
What's in the box: Three pieces of jewelry, curated according to your preference
Price: $21 per month
Shipping: Free
22. mintMONGOOSE
mintMONGOOSE is a small jewelry subscription store run by a mother of two.
If you subscribe for either a 6- or 12-month subscription plan, you'll get an extra first box for free.
Currently, if you provide your phone number for updates, they'll send you a free necklace. Plus, get a surprise bonus gift every 3 months.
The only downside is that they don't process returns, but they do replace damaged items.
What's in the box: A 3-piece jewelry set; you can add earrings or rings ala carte or add them to your subscription for an additional fee
Price: First box is free, but you need to shoulder $5 shipping and handling.
Shipping: Free for double first box for 6- or 12-month subscription plan; $13.99 per month for a 12-month subscription plan
Free Pet Subscription Boxes
23. Bark Box
Fur parents will love the Bark Box, which includes two pet-friendly toys, two healthy treats, and one chew. What's more? They have different monthly themes!
What's in the box: The first box includes free dog stuff like food, treats, and toys, but if you pay for a 6-month subscription, you get the first month free plus extra toys too!
Price: First box is free, with the next months priced starting at $23 per month depending on the subscription plan
Shipping: Free to the US
Free Book & Toy Subscription Boxes
The Next Big Idea is a book subscription community curated by five best-selling authors aiming to give their subscribers the two best nonfiction books per season.
Committing to a 12-month subscription also gives you access to their library of e-courses breaking down the books' key concepts through video insights, reading guides, and author interviews. You also get access to an online discussion group.
So it's not only a book subscription service, it's also a book club!
If you're not happy with the books you get, they have a 30-day money-back guarantee, so you can cancel your subscription for a full refund within 30 days of your subscription (so it's possible to keep your first box for free).
What's in the box: 2 books every 3 months
Price: First box for free; $199 per year for ebooks (4 digital deliveries); $249 per year (4 boxes)
Shipping: Free
25. Stay Regular's Mystery Box of Awesome
Get monthly surprises of random things that you'll definitely love! The company has been delivering "a box of fun" for over 9 years.
You pay almost $10, but the value you receive is definitely waaay more than what you pay for.
What's in the box: Several mini items for the hobbyist's heart
Price: free for the first month, $9.99/month after
Shipping: Shipping fee is included in the subscription cost
What Kinds of Free Subscription Boxes Have you Discovered?
Unfortunately, there really are no subscription boxes that are completely free, except for free magazines.
When it comes to products, a month's worth or the first box is usually the only one you can receive for free.
Hey, they're still free (or mostly free) and you can always hunt other freebies, such as these free sample boxes, free baby boxes, and other things you can try for free for the first month.