Everybody loves free stuff, but getting free subscription boxes (whether just for the first month, or every month) is definitely some kind of special.
Almost all subscription box services require you to sign up and hand over credit card information. You'd have to totally OK with this, since companies know how valuable your information is and may use your address to send future promotions to you via email or traditional mail.
How do Free Subscription Boxes Work?
The steps vary between companies, but they generally follow these steps:
Sign-up. Create a profile with your address, photo, and other information.
Choose a plan (if there are options available)
In some cases, companies include their 'free subscription boxes' as part of their online store, so you'd have to add-to-cart and checkout, before adding your credit card details.
Pay for shipping fees. Not all companies shoulder the shipping and handling of your free subscription boxes, so be ready to pay for shipping fees especially if the box you'll be receiving is a bit on the bulky side.
Enter your credit card details. Yes, the first month or two is free, but the company is banking on the possibility that you'd love their product so much that you'll continue the subscription beyond the free months and the payment method is already in place.
Wait for the box to be delivered on a weekly, monthly, quarterly or yearly basis.
Almost all subscription boxes can be "paused" (skips a month or two of subscription fees) or canceled (stopped completely) if you wish.
Don't Miss These Freebies...
Sign up for all 3 sites to get regular freebies in the mail.
Daily Goodie Box - Grab a GIANT box of free samples from some of the world's most popular brands.
Product Testing USA - Work with companies like Sony and Apple to test out their latest products!
Inbox Dollars - Free $5.00 for signing up! Get paid to share your thoughts.
18 Free Subscription Boxes to Try
Get one, or get all. The choice is up to you. I've categorized them so I could easily add new subscription boxes as I find more.
Free Drink and Food Subscription Boxes
The following are just free food samples, except they're carefully hand-picked and grouped with other similar products.
Snacks, condiments, and other easy-to-eat foods with no chemicals, no colorings, no artificial anything.
What's in the box: 7+ snacks included in each box (depending on the package you choose)
Price: First 'Tasting' box free, second box paid $7.99 for Tasting, $16.50 for Deluxe, $19.99+ for Gluten-free
Shipping: Just shoulder shipping & handling of $4.99 for the first month, but ships free on the second month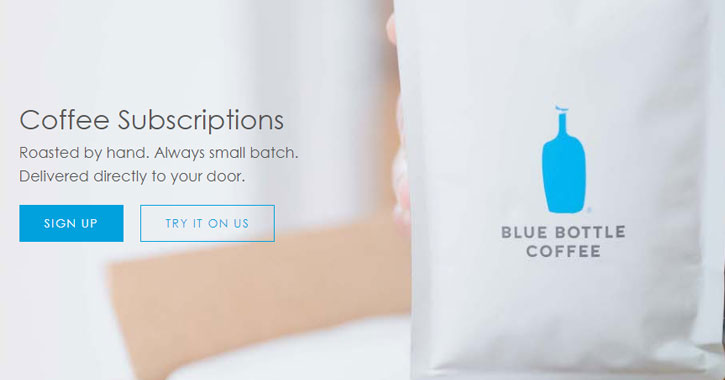 With Blue Bottle Coffee, you can try their famous coffee and espresso blends on them. You just need to cover shipping.
What's in the box: For the free trial, you can choose from either the espresso assortment, a blend assortment, or a single origin assortment.
Price: Trial sample is free, but plans go between $9.50 and $18.
Shipping: At-Home subscriptions have a flat, per-shipment shipping charge of $5, or $4 for just one 6oz bag.
3. Nature Box
The box is filled with natural and healthy snacks like nuts, dried fruits, chips, crackers, chocolates, and others.
What's in the box: Different snacks included each month
Price: Your first 30 days of membership are FREE – no strings attached! After the first month, membership is only $30 per year.
Shipping: Free U.S shipping, but international charges may apply
This subscription box service sends out crystallized brewed coffee that coffee lovers will go gaga over!
What's in the box: Coffee enough for 8 cups
Price: Free trial kit is free, followed by $22/month for the following coffee refills
Shipping: Free first box needs $3 for shipping fee, but second month comes with free shipping
Free Health & Beauty Subscriptions Boxes
Walmart carries a lot of beauty brands, so it would be easy to promote products on this subscription box service, which is sent 4 times a year. The box not only includes product samples, they also have instructions.
What's in the box: The contents would vary, but mostly includes products for the skin, hair and cosmetics.
Price: First-month free trial, starts at $5 / box.
Shipping: Only in the USA.
6. BirchBox
This beauty subscription box is also a popular choice if you're interested in sampling the newest hair care, skin care, makeup, or fragrance in the market. The items included in the box are sample-sized, but you can always buy the full-sized versions on BirchBox on top of your regular box.
What's in the box: Receive 5 free mystery grooming samples
Price: First box comes free, but the next ones cost $15/month
Shipping: Free for new members from the US
7. Hubble 
With Hubble contacts, you only have to answer the quick questionnaire to join the community and have contact lenses replaced automatically each month.
What's in the box: Comes with 15 Hubble lenses
Price: Free for the first month, then starts at $33/month
Shipping: Pay $1 for shipping for the trial
8. Curology
If you're having skin problems (acne, clogged pores, rashes, breakouts, wrinkles, etc.), Curology custom-makes skincare boxes for you.
What's in the box: Trial products sent depends on your current skin issues.
Price: Free for trial, $19.95/month after the free month
Shipping: $4.95 in shipping + handling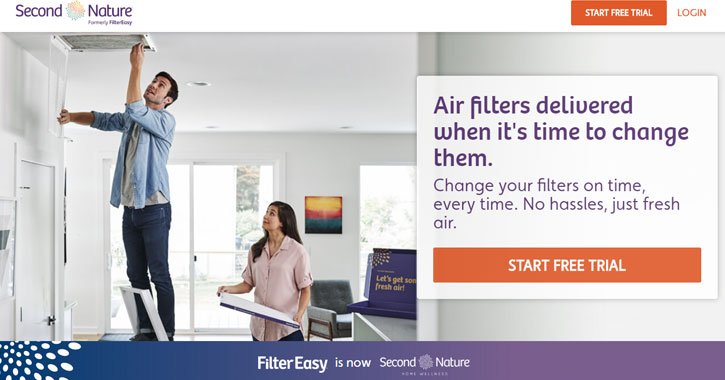 Don't miss these...
These 3 sites will send you FREE stuff in the mail and PAY YOU to hear what you think about what you receive.
Toluna Influencers - Work directly with companies like Nike, Samsung, Amazon, and Disney to improve their product lines.
Inbox Dollars - Free $5.00 for signing up! Get paid to share your thoughts.
Vindale Research - Answer questions about products, shape the future, get paid up to $50 per response.
This is more better placed under "home" category, but since having clean air is a matter of health, I included this one here as well.
Formerly named Filter Easy, the company provides monthly furnace and air filter replacement. You just have to choose the size and frequency (options include 1/2/3 months).
What's in the box: Includes one filter each delivery
Price: Free for the first filter, $12 for the next
Shipping: Trial also includes free shipping
10. Glossybox
This makeup and skincare subscription box sends out your first "glossy box" free of charge, but there's a catch: you have to purchase a 3-month plan first.
What's in the box: Contains 5 hand-picked beauty products
Price: You'll be charged $58.50 for 3 months, with a free first month included in the deal
Shipping: Comes with free shipping
11. Waldo
If you're wearing contacts and want to try another brand, Waldo gives U.S. residents a free box of high-quality contact lenses.
What's in the box: Get 10 pairs of daily contacts as trial pack
Price: Completely FREE for the first month, $18/box on your next order
Shipping: You need to pay $2.95 for shipping
Free Subscription Boxes for Men
The Dollar Shave Club is one of the earliest companies who made subscription boxes popular.
What's in the box: Includes 3 different razors and blades
Price: First-month free trial, starts at $10/month
Shipping: US only
13. Harry's
Harry's is home to affordable men's grooming products, and with a monthly subscription box, you'll get awesome deals without thinking about it anymore.
What's in the box: Usually includes a razor and shaving cream, but can sometimes include other men's items like deodorant.
Price: First-month free trial, starts at $15/month after
Shipping: US only
14. Badass Bead Care 
Works similarly to Dollar Shave Club. Free box gets you 3 items (either a balm, wash, pick or other new products for growing and softening a man's beard).
What's in the box: 3 trial-sized Badass Bead Care items
Price: First box is free, Badass Beard Club paid subscription starts from $10/month to $50/month.
Shipping: Free for US only
Free Clothes Subscription Boxes
15. Gwynnie Bee 
This is one of the earliest rental boxes, where you can rent clothes of any size from all the designers available. You can exchange the clothes without extra charges.
What's in the box: Different products each month
Price: $0 for the first month, and after $69/month
Shipping: Free shipping
16. Kidpik
This girls fashion subscription box makes shopping pretty easy for your girls ages 3 to 14. Sign-up for the subscription, indicate what kind of style your girl has, enter your details and wait for the package to be delivered.
What's in the box: Get 3 head-to-toe mix & match coordinated outfits including shoes personalized for your girl
Price: No Styling Fee! Only pay for what you keep.
Shipping: Return the rest for free in the enclosed prepaid envelope.
17. Nadine West
This styling service for women is similar to Gwynnie Bee and Kidpik. You receive several pieces of clothing a month, which you can return if you want to and wait for a new box. If you found something you'd like to keep, just
What's in the box: Receive different clothes ranging from sizes small to 3XL.
Price: Receive your first box free, but you'd have to shoulder out $9.78/month
Shipping: Shipping fee is waived from trial to paying fee
Free Pet Subscription Boxes
18. Bark Box
For those with fur babies, you'd love the Bark Box that includes two pet-friendly toys, two healthy treats and one chew. What's best is that they're themed each month.
What's in the box: The first box includes free dog stuff like food, treats and toys, but if you pay for a 6-month subscription, you get the first month free plus extra toys too!
Price: First box is free, with the next months priced at $22/month
Shipping: Free to the US
What Kinds of Free Subscription Boxes Have you Discovered?
Unfortunately, there really are no subscription boxes that are completely free, except for free magazines.
When it comes to products, a month's worth or the first box is usually the only one you can receive without charge.
Hey, they're still free (or mostly free), so what's stopping you from getting them today?
Have you discovered subscription boxes that are worth checking out? Do they offer free box trials? Feel free to add more to this list by sounding off below…