Starbucks does exactly what it's supposed to do. You know what to expect every time you go in there. It's reliable. It's everywhere. It's coffee. The only way to make it better is if you could get free Starbucks coffee.
Don't Miss These Freebies...
Daily Goodie Box - Grab a GIANT box of free samples from some of the world's most popular brands.
Try Products - What's better than one giant box of free stuff? TWO giant boxes of free stuff. Join Try Products to get even more free samples shipped right to you.
Survey Junkie - Test new products, keep them, and get paid for your feedback. Sign up for free to get started.
I definitely drink too much of it, so I started looking into different ways I could get some for free and here's what I found.
6 Ways to Get Starbucks Free Coffee
This guide should help you get a free cup of Starbucks every now and then (some more regularly than others that are one-off).
1. Become a Starbucks Rewards Member
If you can't get enough of your favorite Starbucks drink, whether it's the spiced pumpkin latte, their traditional brewed coffee, or one of their frappuccinos, you need to become a Starbucks Rewards Member.
Like other Rewards programs, you get to earn stars every time you buy a Starbucks drink, food, or merchandise. There are two ways to join:
Sign up from the website. While this will get an account created, you're really going to want to…
Download the Starbucks app and register from there.  Available for both Android and Apple devices, the app is not just a Rewards app where you can see how many stars you've earned. Using the app is more convenient since it allows you to save a credit card (or another payment method), then order ahead from the app, and just pick up your drink from the nearest Starbucks.
Some activities collect more stars than others. For example, adding funds to your account via credit card, participating in Bonus Star challenges, or pre-ordering via the app.
As a Rewards member, you can get free coffee in three ways:
How to Get Starbucks Free Coffee on Your Birthday
To qualify for the Birthday Reward, you must have made at least one Star-earning transaction. Just show your app to the Starbucks barista and you get your choice of coffee. Yes, even without purchasing anything.
Free Coffee Refills
Free coffee refills are available for Rewards members during in-store visits only. However, unlike the birthday treat, you need to purchase a drink first before you could request free coffee refills.
Earned Starbucks Stars Get You Free Coffee
You earn 1 star per $1 spent when you scan your member barcode in the app, then pay with cash, credit/debit cards, or mobile wallets at participating stores.
You can also earn 1 Star per $1 spent when you link a payment method and pay directly through the app. Here's what you can redeem:
25 stars – Customize your drink with a free espresso shot
100 stars – Brewed hot coffee, bakery item, or hot tea.
200 stars – Handcrafted drink, hot breakfast, or parfait.
300 stars – Get a salad, sandwich, or protein box
400 stars – You can take home select merchandise or at-home coffee
Note that like anything in the world, Starbucks Stars are also affected by inflation. Yeah, It used to only cost 50 stars to redeem a brewed hot coffee (not it costs 100 stars). While free Starbucks redeemed from stars is still free, it's important you know what you're signing up for.
2. Earn Free Starbucks Stars via Delta SkyMiles
To really ramp up your free rewards, keep an eye out for various ways to pick up free Starbucks Stars.
These methods work the best:
Link your Delta SkyMiles Account
If you have a Delta SkyMiles account, you can get 150 bonus stars free, plus earn double stars when you travel AND Delta miles when you shop at Starbucks
Watch out for Double Star Days – Once a month, you can get double the amount of stars per order. Email and app notifications are sent out on the day these occur.
Buy grocery store coffee bags – If you brew at home, pick up a Starbucks bag and there will be a sticker attached that you can peel off for a free star.
Sign up for their emails – Make sure you opt-in to email notifications because they email out time sensitive free star codes pretty regularly.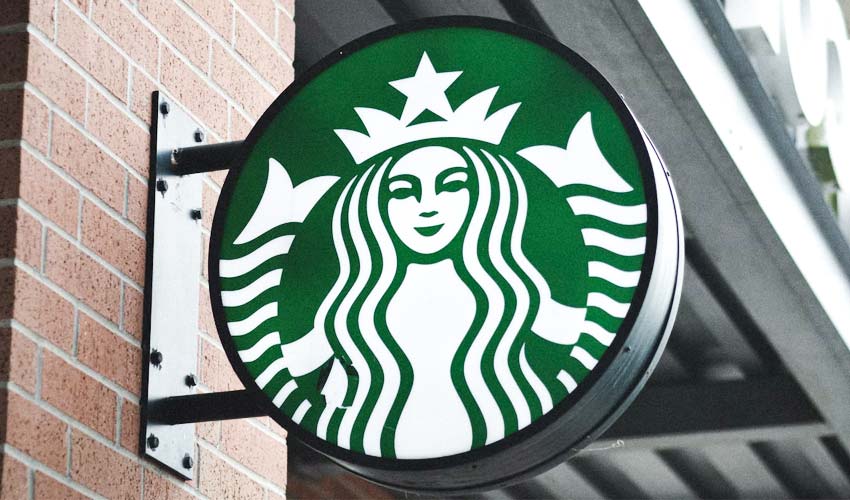 Starbucks plans to partner with other companies in the future. As they expand their "Reward Together" program, the company wants to collaborate with other leading brands to connect their rewards programs to the Starbucks brand.
3. Get Starbucks Free Coffee on Happy Hour (Thursdays only)
If you don't want to become a Reward member, but still is interested in free coffee, this is probably the best method for you.
On select Thursdays each month, you can take advantage of the Happy Hour BOGO and get two of your favorites for the price of one. It is held from 2 pm to 7 pm at participating stores.
To know when/which branches are available for the next one, download the app and wait for Happy Hour notifications.
While Starbucks hasn't officially announced the end of the Happy Hour, the events have been occurring less frequently lately.
4. Use Swagbucks to Earn Starbucks Gift Cards
Swagbucks lets you earn money from ordinary things you do, such as playing games, shopping online, answering surveys, watching videos, and searching the web.
Once you've gathered enough points (called "SBs"), you can redeem them as cash via PayPal, or as any gift card like Target, Amazon, and yes Starbucks.
Claim your free box of goodies now!
It's a giant box of free samples and it comes right to your door at no cost.
Click here and get yours.
It would take a while to earn SBs, but it's a legitimate way of getting Starbucks free coffee. The quickest way to earn SBs is to run videos in the background while doing chores, or work, and answering surveys (which tend to pay higher SBs).
5. Limited Edition Starbucks Collectable Stickers
Like the Starbucks annual planner, the company gives customers a way to collect stickers/stamps and redeem a free cup of coffee, pastries, or other Starbucks merchandise once you've reached certain milestones.
Although you would have to invest in several Starbucks drinks before getting that free cup, this technique would be best for those who actually buy Starbucks every day.
Getting the stamps/stickers and looking forward to receiving some Starbucks stuff back is always better than nothing.
6. Participate in Survey Junkie to Earn Starbucks Gift Cards
Survey Junkie is one of the oldest survey sites around and still offers money to people in exchange for their opinions on certain topics.
If you have some time to answer questions, you can earn virtual points every time you complete a survey. And once you reach $5, you can redeem it for various kinds of e-gift cards (Starbucks included of course, which you can then use for free coffee).
Beyond Starbucks Free Coffee
Can't wait for your birthday or Starbucks credits and rewards? Are you open to try other coffee brands?
If so, check out this big list of ways to get free coffee from just about anywhere.
To know when coffee brands have current promos, make sure to follow your favorite local cafes or bigger ones like Starbucks on social media.
For those who have a coffee maker or espresso machine at home and would love to get free coffee beans and other coffee product samples instead, we've got a big list for that too! Enjoy!