Clothes are one of the basic necessities in life (aside from food, water, and shelter), so being able to get free clothes from different sources can be a pretty rewarding thing.
Don't Miss These Freebies...
Daily Goodie Box - Grab a GIANT box of free samples from some of the world's most popular brands.
Try Products - What's better than one giant box of free stuff? TWO giant boxes of free stuff. Join Try Products to get even more free samples shipped right to you.
Survey Junkie - Test new products, keep them, and get paid for your feedback. Sign up for free to get started.
Imagine reducing your fashion budget significantly by finding out where to bag free clothes. That's a savings of $1,833/year, the average amount spent by Americans on new clothes and the latest fashion according to the latest U.S. Consumer Expenditures report.
One of the easiest ways to get free clothes is to become a brand ambassador/influencer. Sites like Toluna and Survey Junkie pay you in cash to work directly with companies like Nike, Samsung, Amazon, and Disney to improve their product lines.
How to Get Free Clothes: 25+ Different Ways
If you look around, one of the most recommended ways of getting free clothes involves some sort of rewards or cashback.
Here are sites you can start with:
1. Rue La La
If you refer friends to buy from Rue La La, you can earn credits that you can save and get free clothes once you've reached the minimum credit amount.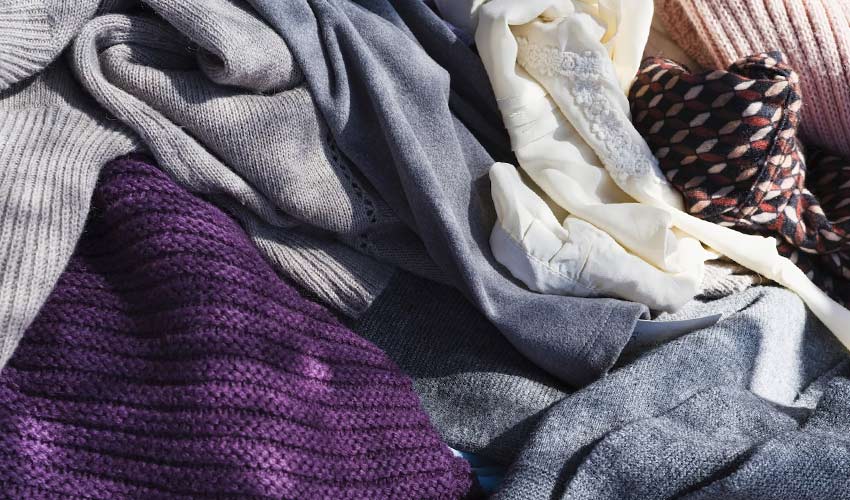 2. Swap.com
Swap.com has several programs that could help you get free clothes.
One is the friend-referral program, which gives your friend 40% off their first order and you'll receive 40% off for every friend that purchases.
The site also gives away a $100 Swap.com gift card as prize for raffles regularly.
3. ThredUP
ThredUP is an online thrift store. It doesn't necessarily give away free clothes, but anytime you buy one of their heavily-discounted items, you earn points ($1 = 1 point) that can go toward free standard shipping, waived restocking fees, credit, and other kinds of rewards.
The good thing about ThredUp is that unlike many fashion sites like these, ThredUp caters to a wide range of categories from kids' clothes to menswear and women's clothing. They even have plus sized, maternity, accessories, and shoes as well.
4. Rent the Runway
As its name suggests, Rent the Runway allows you to be up-to-date with fashion by renting stuff you see on the runway.
Although "free clothes" aren't advertised here, new members do receive a special trial offer on any membership with code: GETDRESSED.
5. Stitch Fix
With Stitch Fix, everyone can have their own stylist without paying for their services.
In order to take advantage of this awesome site without spending your own money, refer people to the Stitch Fix. The dollar value of credits you can get ranges from $10 to $30 per successful referral.
6. Swagbucks & My Points (Survey Sites)
If you have time to spare, you can answer surveys from Swagbucks, MyPoints, and other legit survey companies.
The points you earn from every survey completed will be saved in your account, which you could exchange for cash (usually paid via Paypal) once you reached a certain amount. This fund, which you earned from doing virtually nothing, can then pay for your new clothes.
7. Inbox Dollars & Other Get-Paid-To Sites
If you're not a fan of surveys, you can do other things like taking quizzes, playing online games, shopping online, completing offers, or even as basic as browsing the internet.
InboxDollars is one such site that asks members to do such tasks in exchange for points, which you can then convert into gift cards or money.
8. The Nordy Club, Kohl's Rewards & Similar Loyalty programs
Like referral points, many brands create loyalty programs to encourage customers to buy more in the future.
Every time you buy from their store, you earn points, which you could use to get free clothes in the future. Two great examples of this are Nordstrom's reward program The Nordy Club and Kohl's Rewards.
Claim your free box of goodies now!
It's a giant box of free samples and it comes right to your door at no cost.
Click here and get yours.
These methods of turning rewards, points, or cashback into real cash are legitimate. I know many people who have exchanged their rewards for money just by shopping with a particular app, answering surveys, referring new customers to certain stores, and doing various tasks.
However, your patience will be tested because it could take days, weeks, or even months before you can earn enough for a payout.
Only then will you be able to use your cash for new clothes or whatever items you wish to buy them with.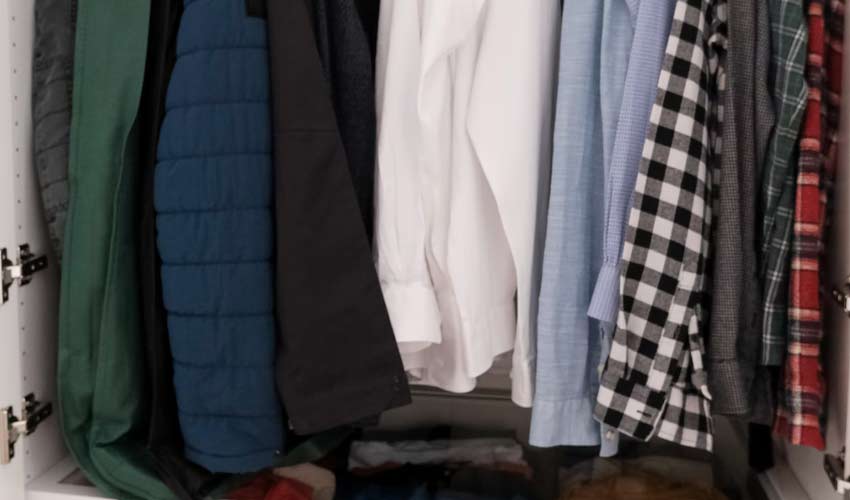 9. Rehash Clothes, Vinted, Swap Society & Other Clothe-swapping Sites
Clothes swapping is becoming more popular recently.
Not only do you get rid of clothes you no longer wear, but you keep them out of landfills because they go to people who want to wear them. Plus, your wardrobe gets an update.
This method is available both online and offline. Rehash Clothes, for example, lets you swap your clothes with other members.
Similar sites include Swap Society and Vinted.
10. Thrift Stores
Sometimes, even thrift stores offer free clothes piled on a rack or box. They're usually labeled "free" but not neatly presented, so you might have to sort through a ton of clothes to find some that fit your size or preference.
Even if you don't find any free clothes at the thrift store, there will be clothes at dirt-cheap prices that might as well be free.
11. Free Clothing Closets
If you're struggling financially (such as loss of income) or facing emergencies (like a fire), there are clothing banks that give away free clothes.
Check non-profit organizations such as:
Operation Warm (this organization specifically has been such a blessing since 1998. It's been providing over 2 million coats to children in need for decades).
Some organizations may require you to fill out paperwork before receiving items.
12. Free Clothes from Craigslist
You know how they say fortune favors the brave? Well…
Check your local Craigslist and browse the "free section" for potential listings of free clothes. If you find something interesting, message the poster and send your interest.
Most of the time, meetups are needed to close Craigslist deals, so make sure to meet in a crowded place or bring a friend when picking up the free clothes.
13. Local Garage Sale
Like thrift stores, garage sales may also have cool clothing priced super-low or even for free. Check neighborhood bulletin boards and look out for upcoming garage sales near you. Don't hesitate to haggle prices if you're trying to buy a piece of clothing for sale.
If you have time, you can even go on a garage sale marathon by filtering yard sales near you via this handy site, Garage Sale Finder.
14. Freecycle.org
This online network is similar to Craigslist because it is divided into local chapters, but Freecycle.org only focuses on items that are up for grabs without paying anything.
15. OfferUp
Available only in the United States, OfferUp lets people post buy and sell items locally.
It works similarly to Craigslist. Check the "free" section for used and new clothes.
16. Facebook Marketplace & Groups
Many people dispose of their stuff on Facebook's marketplace or groups.
Facebook's Marketplace is the buy and sell section of the social media platform.  While the majority of listings are for-sale posts, you could also find free clothes (and other items) posted here.
As for Facebook groups, you do need to do a bit of digging to find the perfect group. It can be a freebie group, your community's exclusive group, or something else. Check the posts and see if anyone is giving away free clothes.
You'll need your own Facebook account to participate in both Marketplace and Groups.
17. Freegle
Whether you're the one who has items you no longer need, or you're looking to grab stuff that's free, Freegle is a good place to start.
This is because Freegle matches you with someone local at zero cost to you. Begin by typing your location and wait for the platform to do its magic.
18. Mix and Match Coupon Codes
Coupons allow you to save money when shopping at clothing websites. The extras you save should be used to get free clothes.
If you're lucky, you can use two or more coupon codes simultaneously to get free clothes.
To ensure you have as many coupon codes as you can, subscribe to your favorite stores. Some of the best ones include:
19. Become an Estate Cleaner
This job isn't a permanent one, but if your goal is to get free clothes, this could be a job to fit the bill.
As an estate cleaner, you'll be assigned to clean and dispose of a person's belongings. The need for this often arises when a person dies and his/her family members are left to decide what to do with their stuff.
20. Ask Your Family and Friends
It may seem like such an obvious way of getting free clothes, but not everyone likes asking for favors from their loved ones.
If this doesn't really bother you, then go ahead and ask your family amd friends if they have clothing that they'd been wanting to give away.
4 Ways of Getting Free Clothes by Mail
If you prefer brand new clothes, but don't want to put in the effort with cashback and rewards, these three options are your next best bet:
1. Become a Fashion Authority
This is a long-term plan, and includes a lot of work, plenty of networking, and socialization in person and online. This involve the following steps:
If you have a knack for writing, a unique sense of style, and a great social radar, you can start a fashion blog or promote an Instagram account that's focused on everything fashion.
Once your online space (whether your website or social media) becomes popular and gathers fans, brands would soon take notice and send you free clothes by mail.
In most cases, a review of the free clothes (and the free publicity that comes with it) is all that companies want from you.
Need inspiration? Check out Girl with Curves, Hello Fashion, My Fash Diary, and Egg Canvas.
2. Watch Out for T-Shirt Giveaways Online
If you're on Instagram, stalk apparel companies by following their accounts and joining giveaways. The cool thing about the fashion industry is that big or small brands use giveaways to promote their clothes, so take advantage of these contests.
If you're finding it hard to look for brands, you can also follow the subreddits Freebies and Giveaways.
For those who don't have time to hunt for companies and join contests or giveaways, here's how to get free t-shirts in the mail.
3. Become a Product Tester
Some companies require the help of ordinary consumers in trying out new products.
To receive free clothes (and be able to wear them for weeks or months at a time, or even keep them for yourself), you can look for product testing programs like the ones offered by Under Armour, Adidas, Nike, New Balance, Saucony, Glamorise, or Carhartt, among others.
4. Ask Top Brands For Free Clothes
Sometimes, all you need to do is ask, and you shall receive.
Think of a few companies that you want to get freebies from and head to their websites, where there's normally a contact page and other contact information.
Let them know how much you love their products, how long you've been buying them, and ask them if they would be interested in sending you, their loyal customer, free clothes or swag you can try out. Be as specific as you dare. Include your shipping address if the form doesn't already ask for it.
You never know what you might get! Best case scenario, you get what you ask for. Even if you don't, you might still be sent coupons for discounts or free shipping on your next order.
Other Ways to Get Free Clothes
In the past, t-shirt printing companies that produce misprints giveaway these items, instead of throwing them away. However, because of the internet and how some people actually hunt for and buy misprinted t-shirts, even these are sold for regular prices.
If you're a college student, you can try to get a hold of free hoodies, shirts, or jackets from the school where you're currently enrolled in.
Clothing subscription boxes also exist.
Although none of these offer the first month free, most of them have giveaways for free stuff.
Here are other awesome examples of subscription-type programs:
Final Thoughts
Clothes are an essential item, for sure, but if you buy brand new every time, the spending can go up to a few thousand dollars a year.
Whether you choose long-term game plans like blogging or cashback or prefer to do it old school and get free clothes from yard sales, thrift stores, or swap clubs, isn't it great to know that there are sources like these available for anyone in need of clothes?