Who says no to a free tshirt? More importantly, who gives away free tshirts?
Don't Miss These Freebies...
Daily Goodie Box - Grab a GIANT box of free samples from some of the world's most popular brands.
Try Products - What's better than one giant box of free stuff? TWO giant boxes of free stuff. Join Try Products to get even more free samples shipped right to you.
Survey Junkie - Test new products, keep them, and get paid for your feedback. Sign up for free to get started.
Companies, brands, and organizations love to market and advertise to as many potential customers as possible, and giving away tshirts is a good way to advertise. Anyone who wears their tshirts becomes an advertising medium.
So these companies get to advertise, and you get free clothes. Everybody wins!
Today's post features a list of these companies and brands that give away free tshirts and links to where you can get them.
20 Companies That Give Away Free T-Shirts
One of the easiest ways to get free t-shirts is to become a brand ambassador. Sites like Survey Junkie pay you cash to work directly with companies like Nike, Samsung, Amazon, and Disney to improve their product lines.
Normally, the only thing that these companies ask for is for you to wear the free shirts, but some of them ask you to give your personal information, answer a survey, or make a purchase.
Take note that if you feel uncomfortable doing this or you feel it's not worth the free tshirt, trust your gut feel and don't do it.
In addition, most of these giveaways are assured, but a few of them are giveaways from contests or raffles, or otherwise ask you to apply to be part of a community.
Here is a list of companies, organizations, and brands that give away free tshirts.
1. Toluna
Join Toluna today and become a brand ambassador. You can inspire new trends, try new products, and get paid all at the same time.
2. Adidas
Apply as a product tester in Adidas and they'll send you free merchandise to test. They might even send you more than a free tshirt.
3. Kona Ice
Kona Ice is a shaved ice truck that serves nutritious frozen treats. Fill out this form and get the chance to win a free Kona Ice shirt.
4. Smokin' Dave's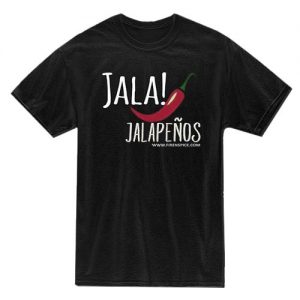 Smokin' Dave's sells smoked jalapeños, habaneros, and garlic. If you love their products or simply love jalapeños, provide your shipping information and read the terms and conditions to get your free "Jala! Jalapenos" Tshirt mailed to you.
5. Paradosiaka
Paradosiaka manufactures olive-based products, such as vacuum-preserved olives, olive tapenade, olive oil, soap, and other olive-based products. They give out free tshirts to promote their company.
6. MuscleTech
MuscleTech focuses on fitness products, such as protein supplements, workout drinks, and apparel. Subscribe to their newsletter and you can get free samples, nutritional advice, exclusive offers, and swag, including apparel.
7. T-Shirt Outlet
T-Shirt Outlet is a distribution channel for promotional shirts with printing errors or defects. Simply fill out this form with your shipping information and they'll send you a free shirt.
8. Tubi 60
Tubi 60 is a popular herbal spirit from Israel that's imported in the US. Opt in to the Tubi email newsletter and they'll send you swag and free tshirts occasionally; it's not a guarantee, though.
9. AB InBev
If you're a Budweiser drinker, this one's for you. MyCooler is a rewards program that lets you earn points every time you buy a beer from one of their brands, such as Budweiser, Bud Light, Stella Artois, Bon & Viv, and many others. These points can be exchanged for swag, such as clothing, electronics, accessories, and more.
10. 4imprint
4imprint creates promotional products for companies, including shirts, pens, notebooks, bags, tumblers, and many more. They take customer service seriously, so you can request free samples for their various tshirts.
11. WWF
The World Wide Fund raises awareness and gets monetary support from fundraisers.
Tell them about your plans to do a fundraiser and get an inspirational fundraising pack, inclusive of a free tshirt.
Claim your free box of goodies now!
It's a giant box of free samples and it comes right to your door at no cost.
Click here and get yours.
12. Free Tshirt from the United Survivalist Association
Get a free tshirt that says "These Colors Don't Run" by filling out this form with your shipping information.
You'll also become a member of the United Survivalist Association for free.
13. Team Valvoline
Join Team Valvoline, start earning points by uploading receipts and other activities, and exchange points for free tshirts, caps, mugs, and other merch.
14. Lenovo
Lenovo laptops and tablets have been dominating the market for a few years now, can this is your chance to get some swag from them.
Create a Lenovo ID and make sure you select the option to join MyLenovo Rewards. Start earning rewards points for every purchase on the Lenovo website and exchange these rewards for a free tshirt and other swag.
15. OX Tools
OX Tools produces high-quality professional tools for builders and construction workers. Join the Tuff Club and get the latest news on promotional events, new products, product testing opportunities, plus chances to get free tshirts and other swag for free.
16. E&J Brandy
Brandy company E& J Brandy releases a collection of swag for loyal customers.
You need to create an account on the website and check out active giveaways. If you see a t-shirt or another freebie you like, simply leave a comment on the gear of your choice for a chance to win.
17. Yellow Circles
This one requires donating to the cause of Yellow Circles to get a free t-shirt. (You can choose the amount to donate though).
Plus, you'll need to take the Yellow Circles pledge, simply by filling out your name at the space where it says:
"I, (Your Name), will do the best I can."
Once you've taken the pledge, you can claim your free t-shirt and other giveaways.
18. Colo Guard
Colo Guard is a presumptive test for colorectal cancer given to older adults above 45.
It's a totally life-saving test that many people should get. If you had one, share your Colo Guard story on this form and receive a free T-shirt and other freebies. Plus, you might also get to save other people in the process.
19. Dr. Pepper
If you can't get enough of Dr. Pepper, make sure you download its app and earn points for every can or bottle you consume.
These points can accumulate and you'd be able to claim free shirts, Dr. Pepper merch and other sports-related prizes.
20. Petrix
If you love plains, go to the Petrix website and fill out a form to receive a 100% cotton white t-shirt.
While Petrix lets you pick a preferred designed, note that there's a limit of 1 t-shirt per household.
The promo is also open only to U.S. and Canadian residents.
Other Ways To Get Free T-Shirts
Follow brands on social media.
Companies, organizations, and brands that are not on this list may send out free tshirts from time to time. Keep abreast of these promotions and giveaways by following social media accounts of your favorite brands.
Ask them.
Sometimes, it's as simple as asking. Go to your preferred brand's website, look for their Contact Us page, and write them to say you're a fan of their brand and you'd like a free tshirt.
You'd be pleasantly surprised how many companies will send you a free tshirt just because you asked.
If you're lucky enough to get the free tshirt, make sure to post about it on social media to promote it. It inspires the brand to continue giving away free shirts and makes other brands think about giving away free shirts, too.
Contact colleges and universities.
Create an email template expressing your interest in attending a certain school, collect as many email addresses of schools as you can, tweak your template every time you send it to a particular school, then wait and see if they send you a free shirt and a goodie package.
Bear in mind that colleges and universities are more likely to send you a free tshirt if you've convinced them that you're likely to apply to them, so make sure you sincerely express your interest in your emails to them.
Bottom Line
There are probably more companies out there that give out free shirts. Hopefully, you can fill up your closet with these freebies!
Interested in more than free shirts? Here are other ways to get free hoodies, free socks, or other free clothes.