Finding places that offer free business cards may sound so 90s, but you'd be surprised how well business cards can still translate to leads.
Sales people, CEOs, and other professionals all still carry business cards everywhere and leave to would-be partners, clients, and even just acquaintances.
Giving out business cards are still quicker than exchanging digits, so if you've crossed them out decades ago, maybe it's about time to bring them back to your life.
If you're up for the revival of business cards, the problem now is: can you still get free business cards these days?
Don't Miss These Freebies...
Sign up for all 3 sites to get regular freebies in the mail.
Daily Goodie Box - Grab a GIANT box of free samples from some of the world's most popular brands.
Freebies.com - Similar to Daily Goodie Box. Create an account, pick which samples you want, and get a big box of free stuff delievered straight to you.
SwagBucks - Free $10.00 for signing up! Trade your thoughts for cash.
And if yes, where?
4 Companies Giving Away Free Business Cards
Like what I said on my post about free address labels and free stickers, printing companies usually give away free samples as way to promote the quality of their work.
One of the biggest example of companies giving away sample business cards is VistaPrint.
During the company's earlier days, they offered the "250 free business cards" with customers shouldering the cost of shipping. At first, the promo did very well with many people biting into the promo, even if the shipping cost was inflated.
But once people began receiving the free business cards, they soon realize you can't really get quality-made products for free. After that experience, customers preferred to pay a bit more for better-quality business cards, so VistaPrint changed the "totally free" promo to paying $9.99 for 500 business cards.
Unfortunately, that promo ended.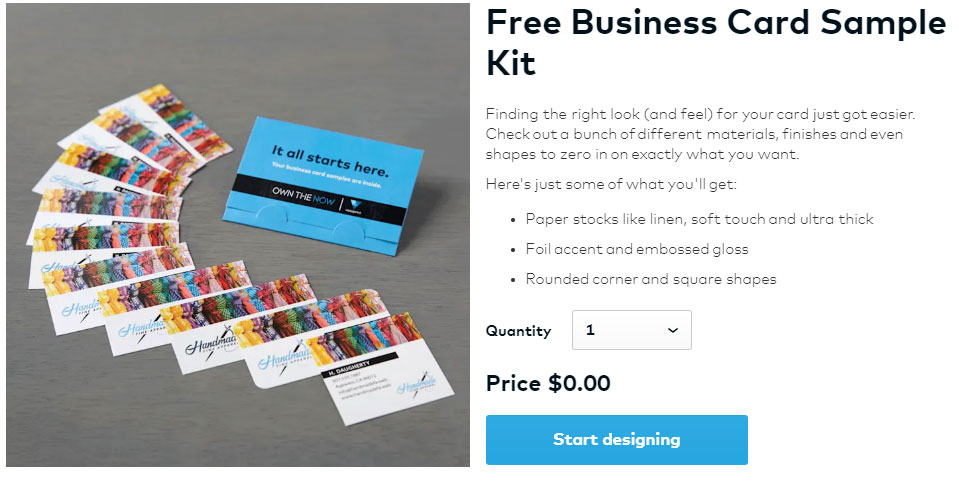 Today, with the Free Business Card Sample Kit, which included 10 pieces of business cards made with high-quality paper, rounded corners, embossed glue and other special features.
From then on, this sample kit has been the golden standard of business card freebies.
This company boasts of having the best free business cards promo in recent times. They're giving you two options:
Get 300 business cards free, but pay $5.95 shipping fee, or
Get 200 business cards free with free shipping, but you have to share the promo on social media.
Both choices are only for US-based addresses.
The cool thing about 4Over4's promo is that you are given a choice whether to go with either 14pt gloss or uncoated cardstock.
The catch? Well, there will be a small 4OVER4 logo on the back of your custom print, which isn't erasable, so don't expect a go-around there.
This printing company is offering professionally-printed business cards with totally 100% no strings attached. You get up to 100 pieces of free business cards printed on eco-friendly 12pt Card Stock.
You do have to shoulder shipping cost, except for those who can pick up the kit in person at the Hotcards Cleveland Headquarters.
Also, you'd have to be okay with the Hotcards logo printed on the back of your custom business cards.
For those looking for impressively printed business cards, but do not want to invest in a lot of trial-and-errors, Moo has the solution for you.
Their Business Card Sample Pack is completely free and includes 10 pieces of business cards featuring various special finish (gloss, uncoated, matte, etc.), paper stocks (Cotton, Original, Super, Luxe), sizes (standard, square, mini, MOO, etc.), and so on.
The sample pack ships free anywhere in the United States, but if you're requesting from another country, you have to shoulder shipping cost.
Other companies like OvernightPrints and PsPrint also send samples, but the kits are not exclusive to business cards. You'll also receive postcards, flyers, brochures, calendars, and so on.
How to Print Business Cards from Home
If you want more flexibility about how your business cards look, or you don't want the logos of printing companies at the back of your cards, you can always go the DIY route and print them yourself.
Don't miss these...
These 3 sites will send you FREE stuff in the mail and PAY YOU to hear what you think about what you receive.
Inbox Dollars - Free $5.00 for signing up! Get paid to share your thoughts.
Toluna Influencers - Work directly with companies like Nike, Samsung, Amazon, and Disney to improve their product lines.
Vindale Research - Answer questions about products, shape the future, get paid up to $50 per response.
It's easier than you think. Just follow these steps:
1. Gather your materials.
Buy heavy-stock, precut paper and make sure your printer has ink.
2. Visit websites with free ready-made templates, or free business card makers.
Examples are Avery, LucidPress, and Template.net, but there are hundreds of these template sites around.
If you prefer to use business card makers online, check out the ones offered by DesignHill, BizCardMaker, Banner Snack, Crello, or Graphic Springs.
They may look different at first, but these business card makers have one thing in common – they use drag-and-drop function to make it easier for people to create custom cards.
3. Double-check your information.
When using templates, you have to edit the name, address, logo and other information and replaced them with your own. You can open the template on programs like Microsoft Word, Apple Pages, or any of Adobe programs like Adobe PDF, Photoshop, Illustrator, InDesign.
When using business card makers, you start from scratch, so include enough information that would identify you and your company.
Details may include any of the following:
Name, title, and business name
Contact number – office landline, mobile number, and fax number
Professional e-mail address – Don't use your free gmail account. Stick with the company-provided email address, such as "name@yourcompany.com".
Website – Because business cards don't have enough space to include everything you want to include about yourself or your company, you show it off on your professional site.
Logo (optional) – If you want to use your company logo, then squeeze it in.
Physical address – For those with a store-front
Not enough info? You can also add a slogan (one-liner about your business), social media accounts, or picture.
4. Print the business cards.
Make sure the sheets of business card pre-cut paper you buy from any office supply store matches the template you choose to use.
The templates will include the size of label and number of labels that can be printed on a single sheet.
Don't give it away quickly after printing. Wait for the ink to fully dry.
The Bottom Line
In the past, people had to go to FedEx and have business cards printed out in person.
Today, the options are virtually endless. Go with printing companies and use their promotional business cards, or create them by yourself with the help of ready-made templates and business card makers.
Whichever route you decide to take, making sure you have a stock of business cards ready should be a part of your professional to-do lists. Giving people and would-be clients/customers an impressive-looking business card usually leaves a good first impression.
While you're here, make sure you pick up a free 2020 calendar or some free pens!