If you're looking for free baby stuff, free pregnancy stuff, or just
Don't Miss These Freebies...
Daily Goodie Box - Grab a GIANT box of free samples from some of the world's most popular brands.
Try Products - What's better than one giant box of free stuff? TWO giant boxes of free stuff. Join Try Products to get even more free samples shipped right to you.
Survey Junkie - Test new products, keep them, and get paid for your feedback. Sign up for free to get started.
Without a doubt, being a mother is no walk in the park.
And it is even more challenging for first-time moms. Believe me, I've been there.
That is why I've written this comprehensive guide all geared towards helping new moms with their expenses.
Be sure to check out these other two in-depth guides if you're specifically looking for free diapers or free baby formula samples.
Let's start with…
20 Places to Get Free Pregnancy Stuff
There's a lot that happens before baby even gets here. So let's first focus on some freebies for mom to help her in this incredible journey.
This box full of goodies from hey, milestone is a highly-rated sample box for moms-to-be. The contents of the box vary but may include breastfeeding kits, lotion samples for stretch marks, hair products, prenatal vitamins, lactation-related freebies, baby diapers and wipes, and so on.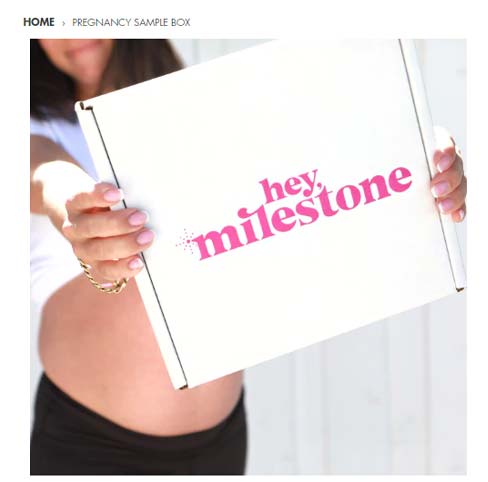 Anyone can get a hey, milestone sample, as long as you collect your free box just once in your lifetime.
You don't need to subscribe or buy another product, but you do need to pay for shipping ($9.95 for any of the contiguous United States) to receive it.
Any expectant mom who joins "The Mom's Room" community has the chance to receive some of Medela's favorite breastfeeding products.
This program is exclusive to US-based moms.
Create your baby registry at buy buy BABY, then visit one of their on-site locations to receive a free goody bag full of samples from different brands.
Unfortunately, this program isn't available by mail, so better check if there's a buybuy BABY store near you.
US-based moms-to-be can save a ton of money in the next 12 months if they join the Motherhood Maternity Preggie Perks program.
After signing up, you'll be a part of a community of moms and moms-to-be who can receive up to $1,500 worth of sample products, discounts, and exclusive offers from Motherhood Maternity partners.
5. Free Breast Pump
If you're planning to breastfeed and you find electric breast pumps overpriced, you might be eligible to rent or keep one based on your health insurance plans.
The Affordable Care Act made it a requirement for women to gain access to a free breast pump, so if you want to know if you qualify, visit HealthCare.gov for program rules.
You can get free Baby Dove products and other Unilever brands if you sign up on this site to get first dibs on offers.
Make sure to indicate if you're only expecting (and have no baby yet), or if your family already welcomed the baby.
The Mum-to-be Pack includes several samples for expecting moms.
Claim your free box of goodies now!
It's a giant box of free samples and it comes right to your door at no cost.
Click here and get yours.
Unfortunately, they're only available for UK-based women pregnant for a minimum of 13 weeks. You'd have to download the Bounty Pregnancy & Baby app and follow the instructions on your phone.
If you didn't get a chance to get free pregnancy stuff throughout your pregnancy, you can still get in on the fun with the Bounty Newborn Pack.
8. Baby Registries Giving away Free Pregnancy Stuff
Those who have no particular product in mind can create their baby registries with big stores such as:
Prenatal yoga is a great way to increase strength and flexibility, as well as develop proper breathing and relaxation techniques that will help you have a more comfortable labor.
Groker offers online classes focusing on health, including yoga, fitness, and cooking classes. Sign up for a free 2-week trial and you can get prenatal yoga classes for two weeks.
The usual belly bands cover up the gap between your jeans and your shirt when wearing your pre-pregnancy, non-maternity jeans, delaying or even eliminating the need to buy maternity pants.
This way, you save money while preserving your comfort.
Belly Button™ Bands take it one step further as you can attach these bands to your jeans.
For a limited time, buy Belly Button™ bands and use the promo code SHOPHER1 to get $40 off your order, which is incidentally the price of their most expensive variant. Thus, you get it for free!
11. Free Breastfeeding Class from Milkology
Breastfeeding is natural, but it doesn't always come naturally.
Taking a breastfeeding class increases your chances of success.
Milkology offers a free 5-day breastfeeding class. Receive your lessons in your email and learn what to expect, how you can prepare for it during pregnancy, how to increase your milk supply, and many more.
Don't miss the Mom Sampling Club Registration and enjoy receiving a new box of samples every month.
This exclusive program is 100% free (no card needed), so expect no payment requirement throughout the registration process.
As a MAM club member, you'll be one of the first ones to test new MAM products and share your valued opinions with us. You also have a chance to win great prizes for you and your baby in our MAM competitions.
If you plan on breastfeeding, check if you're eligible for a FREE breast pump from Aeroflow.
To see if you qualify for a free breast pump, enter your insurance info into the form above and choose the line or model you wish to receive.
About 95% of insurance carriers cover breast pumps thanks to the Affordable Care Act. This is valid for pregnant women anytime during their pregnancy and up to 1 year after delivery.
Created by the same makers of the Aeroflow breast pump above, these compression socks are a must-have if you experience swelling or discomfort in the legs.
These socks were designed specifically for pregnant women to promote blood circulation, reduce swelling, and help prevent varicose veins. And because they expand with you during pregnancy, you can use them from the beginning of your first trimester to the day of your delivery.
If you have insurance, get these compression socks through Aeroflow, which will submit your requirements to your insurance company. If you are approved, you'll receive the socks totally free.
RELATED 75+ Free Magazines Sent Right to Your Door
How to Get Free Baby Boxes and Free Baby Samples Shipped Right to You
The following methods do not include gifts from family and friends.
Instead, they focus on receiving baby samples from companies, groups, and even strangers.
16. Create Baby Registries
You don't have to host an actual baby shower, but you can register for one if you're expecting. Baby brands compete to be featured in these registries, so there's a huge chance that the baby samples included are either the most sought-after, popular, or newest items in the market.
Here are some of the most popular baby registries:
17. Join Rewards Programs
Rewards programs give back to consumers through points that are redeemable for other free baby products.
Like groceries, food, and toiletries that we buy regularly, you'll probably buy baby products as often as possible until they've reached toddler age or school age. So I recommend you take advantage of programs like the Pampers Club or Huggies Rewards Program.
Tip: Stick to rewards programs of stores and brands you like to accumulate more points and get more freebies.
Here are some programs you might be interested in:
18. Sign up for Subscription Boxes for Babies
With subscription boxes, you pay to receive a box of goodies every month for a specified number of months, usually 12 months. There's a subscription fee, but many of these companies provide the first box free of charge to entice you to sign up.
Examples of these are:
Note that some companies only offer free first month as a limited promo.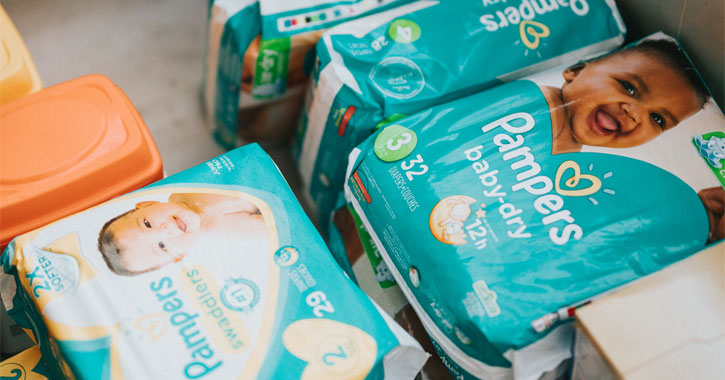 19. Keep an Eye on Baby Brands
Stalk the brands you use for your babies and see what free baby samples you could get.
These companies range from manufacturers of infant formula to breastfeeding accessories.
Some notable brands to check out:
20. Leads From Parent Communities
Parents often look out for one another, so if you can join parent communities whether online or in real life, this could be a game-changer when it comes to sourcing baby products or learning about soon-to-launch items in the market.
The community here doesn't really have to be official – they can be your neighbors, the acquaintances you greet at your local grocery store or a friend's friend. As long as they could offer solid advice and leads on baby supplies.
Sometimes, you don't even have to be physically close to your community. I, for one, have a group of moms on Messenger with whom I share shopping tips and get theirs. We're in different parts of the country, but we still find value in each other's advice and tips.
21. Free Baby Samples From Various Baby Stores
Baby and kid stores almost always have some sort of free baby samples.
Aside from the ones we've mentioned, take note of both big and small stores such as:
Free samples are not available year-round on stores like these, but they do offer them for special occasions, during sales, when new customers subscribe to their newsletters, a client's first order, and other special circumstances.
22. Social Media Giveaways and FB Buy Nothing Groups
Aside from bookmarking all the websites of your favorite brands and joining their newsletters or rewards programs, you can also follow them on social media.
You'd be surprised how much free stuff companies are willing to give away on Instagram, Facebook Live, Pinterest, and even on Twitter. You just have to raise your hand virtually, post something with hashtags, or follow an easy requirement to participate, then let luck do its thing.
If your social media of choice is Facebook (and nothing else), look for local "Buy Nothing Groups" near you. Many people give away things they no longer need for free. You might be able to receive some baby furniture and unused baby clothes this way.
23. Your Pediatrician's Office and Hospital
Baby brands like to display their goods in pediatrician's offices and hospitals to be seen by as many parents and prospective parents as possible, which is why they have plenty of free diapers on hand.
They're also likely to have free baby samples on hand if you ask, as well as connect you to groups and companies that give these out, too.
RELATED 25 Sites That Let You Send Free eCards
Get Free Baby Samples Today!
Parenthood is an amazing journey, but it can be expensive. Babies need a lot of stuff.
Hopefully, this list gave you plenty of ideas on where to get free baby samples to help offset some of the costs.