If you shave every day or almost every day, the cost of razors is probably driving you crazy. Getting a free razor every once in a while may seem like a godsend.
Don't Miss These Freebies...
Daily Goodie Box - Grab a GIANT box of free samples from some of the world's most popular brands.
Try Products - What's better than one giant box of free stuff? TWO giant boxes of free stuff. Join Try Products to get even more free samples shipped right to you.
P&G Rewards - Get over $100 in coupons to stuff you already buy, plus enter to win weekly gift boxes and gift cards.
Today's your lucky day! Bookmark this article so you can get free razors when you need them.
Free Razors from the Big Boys
Of course, you can be sure that the big-named companies will always have freebies for their loyal customers.
However, the type of free razor will depend on what promotions are available by the brand.
Before you explore other sites, look out for the official websites, social media pages, and newsletters of the following companies:
The company has its own subscription program; that is, they'll deliver the kit you've chosen at a pre-chosen date each month. With these automatic deliveries, you no longer have to remember to buy refills ever again.
If you decide to join this program, you can get a free Limited Edition ProGlide Shield Starter Kit. You do need to pay $4 for shipping plus tax.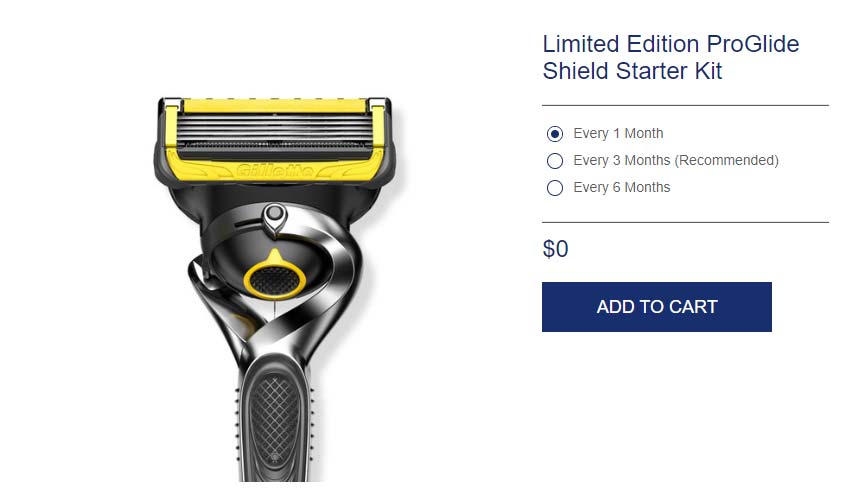 Aside from the subscription program, Gillette also makes their various razors available for free from time to time. You just need to be in line to get one because they are high in demand and the samples run out pretty quickly.
To get first dibs on Gillette's free razor, make sure you subscribe to the company's newsletter. It's free and takes just two minutes of your time!
Schick gives away free razors from time to time, so subscribe to their mailing list to find out when there are active promotions or digital coupons you can use.
If you need to buy a razor now, make sure to subscribe first, so you could take advantage of a 20% off  discount on your first order.
3. Philips
Every now and then, Philips gives away a free razor and refills pack of its OneBlade kits. This isn't a year-round promotion, but you can always check the following pages:
Product testing – The company reaches out to its loyal customer base and asks them to try out new products. Anyone who wishes to participate must sign-up during the testing period. Philips usually shoulder everything, even the shipping cost, when it comes to product testing.
First kit free when you subscribe –  Sometimes, Philips gives away their super popular OneBlade razor when you subscribe to a monthly plan. They have a ton of partner retailers, so this may not be always available, but it's worth checking back on this page.
Join the Bic newsletter for coupons and rebates like this.
The promotions for a free razor aren't always available. But if you're a fan of the brand, you'll get a lot of rebates and savings just by using their coupons.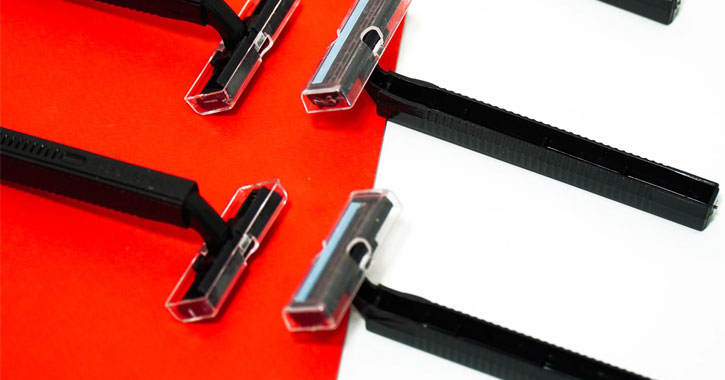 More Sites Giving Away Free Razors and other Grooming Samples
Aside from these four big companies in the shaving industry, there are also special sites where you can get a free razor or even other grooming samples.
This subscription box site is home to in-house grooming products and accessories for men. If you start with a free trial, you'll receive their Truman handle with a weighted handle, a five-blade cartridge, travel blade cover, and Harry's foaming shave gel. You only have to pay $3 for shipping.
Although the entire kit will only last you about two weeks (or a month if sporadically used), it's still an awesome find if you're trying to look for a new brand.
Note that you'd have to pay $8 for the trial pack if promos end, but this offer is sometimes available if you pay for a monthly plan.
The product line of Badass Beard Care is top-notch. They offer free samples of beard wash in many "flavors" all year round, but their razors as freebies are only available on special promotions. This rarely happens, so bookmark this page so that when they do, you're one of the first in line to grab them.
Join the Badass Beard Care newsletter, follow them on social media for contests, then watch out for amazing deals.
Claim your free box of goodies now!
It's a giant box of free samples and it comes right to your door at no cost.
Click here and get yours.
Procter & Gamble is the parent company of numerous brands, including Gillette.
P&G dedicated its own website pgeveryday.com for all the deals, coupons, free samples of their products that your heart desires.
Aside from free disposable razors, you might even get lucky and get a chance to grab free Gillette Mach razors, which P&G has offered as a freebie in the past.
Bromley's for Men, Get a Grip Razor is one of the most gorgeous-looking, affordable razors in the market today.
It's got precision-aligned 7-Blades and a classy rubberized grip handle.
To get this for free, either go to the Kroger's website for coupons or wait for giveaways on their Facebook page.
If you join 'The Beard Club,' you'll receive beard products like razors, balms, creams, natural oils, growth accelerators, and many more.
Technically, the kit isn't free, but if you're willing to shell out $1 for a bunch of products (and shipping fee), then you get to discover the world of straight-edge razors. Each month after subscribing, you'll receive your chosen items straight to your door.
How To Get Almost Free Razors with Shaving Subscription Boxes
Signing up for subscription boxes isn't exactly free, but for what you're paying versus what you're getting, the goods are almost free.
Here are some subscription boxes that ship out (almost) free razors.
10. Birchbox
Subscribe to Birchbox Beauty or Birchbox Grooming for men and get skincare and grooming essentials mailed to you. Chances are they include a razor or a razor handle in your box.
This one was one of the first subscription-box type of its kind in the men's grooming market.
You can get a starter set with a razor handle, 2 razor blade refills, and 3 sample-sized shaving products.
After you get the initial kit, you can add or remove products for your next box, which you can schedule.
If you're not happy with their starter kit, you can take advantage of their 30-day money-back guarantee, so you don't really lose anything on the deal.
This one is like Dollar Shave Club but targeted to women.
You can sign up for a one-time trial pack with 3 disposable razors for as low as $1, plus shipping and handling.
Women's Shave Club isn't even exclusive to women and I recommend you subscribe to this first before other box sets.
Happy Legs Club makes your shaving routine easy.
Just choose your frequency (every 2 or 3 months), pay for your plan, and wait to receive 4 high-quality razors in the first order and 6 razors with each renewal.
Add on organic shave soap, a silicone travel case, and/or organic lip balm available here, too!
Designed specifically for black men, Bevel's razors prevent ingrown hairs, shaving bumps and irritation.
Bevel shaving products is the best choice if you're looking for safety razors. You can choose from disposable or replaceable razors.
The bundles offer so much premium items that the included razors seem to be given away at no cost.
Billie bundles sparkly and highly-effective razors with the best shaving creams, body buffer, and other ultimate skin solution for shaving women's body hair.
Billie's shaving kits are so affordable that it's like you're getting razors for free. Plans begin at just $10, with premium bundles priced at just $37 for a full Billie experience.
More Free Grooming Products?
If you're looking for other free grooming stuff for men, check how you could get cologne samples and free haircuts. For ladies, check out how to get free perfume samples and free skincare samples.
Be careful in signing up on forms, though. As a general rule, never give away copies of your IDs, financial information, and other sensitive personal details. No legitimate freebie site or company will ever ask you to do so.