Look, you want free ice cream and you want it now.
Don't Miss These Freebies...
Daily Goodie Box - Grab a GIANT box of free samples from some of the world's most popular brands.
Try Products - What's better than one giant box of free stuff? TWO giant boxes of free stuff. Join Try Products to get even more free samples shipped right to you.
Survey Junkie - Test new products, keep them, and get paid for your feedback. Sign up for free to get started.
Believe me, I get it. It's ice cream. What's not to love?
I've rounded up a bunch of different national chains that offer different promotions and rewards. Some will straight up hand you a cone, no questions asked.
If you want free ice cream in your hands today, then keep on reading.
How to Get Free Ice Cream Near Me
Whether it's visiting a restaurant during a certain day, downloading a mobile app, signing up to a brand's rewards program, or getting free ice cream on your birthday, this list has all the best free ice cream deals that you can find out there.
Visit their website and a pop-out will automatically appear on the right side of your screen offering you a free Pizookie just by signing up for the restaurant's Premier Rewards Plus.
After registration, you can already start earning points for cash rewards.
If you are looking for an easy way to get a free ice cream today, then, simply download Haagen-Dazs' mobile up and you can claim a free cup or cone after your first purchase.
As a Sweet Rewards member, you can also get free ice cream on your birthday.
And just like any other rewards program, each time you visit a Haagen-Dazs Shop, simply scan your app at the register or the barcode on your receipt to earn points for every dollar spent. And each point gives you a chance to unlocking delicious offers at all participating Haagen-Dazs Shop locations.
Can't get enough of desserts served upside down? Join the DQ Blizzard Fan Club, enter your name, email address, and birthday on the sign-up form, and prepare to receive a free Blizzard treat on your birthday.
Sign up for their Birthday Club and you can get a coupon for a Baskin Robbins free scoop of ice cream on your birthday.
The coupon is for 2.5 oz. scoop of free ice cream, and you will receive it a couple of days before your birthday. You can claim the free ice cream any time before its expiration date.
If you can't wait for your birthday to get free ice cream, another option is to download Baskin Robbin's mobile app.
Join Carvel's Fudgie Fanatics, and you can grab a small cone from them, as well as access exclusive savings and deals in your area. Wednesday is also the best day of the week at Carvel.
When you buy a classic soft ice cream on Wednesday, you get another one for free.
There are two ways to get a free ice cream at Rita's – first is by downloading their app and scooping up your free treat on your 8th visit, and second is by joining their e-Club so you can get a scoop of free Italian ice on your birthday.
Your next ice cream treat on your birthday can be brought to you by Cold Stone Creamery.
To claim the BOGO offer on your special day, first, you need to join the My Cold Stone Club. By joining the club, you are also entitled to receive exclusive member-only offers, as well as opportunities to win amazing prizes throughout the year.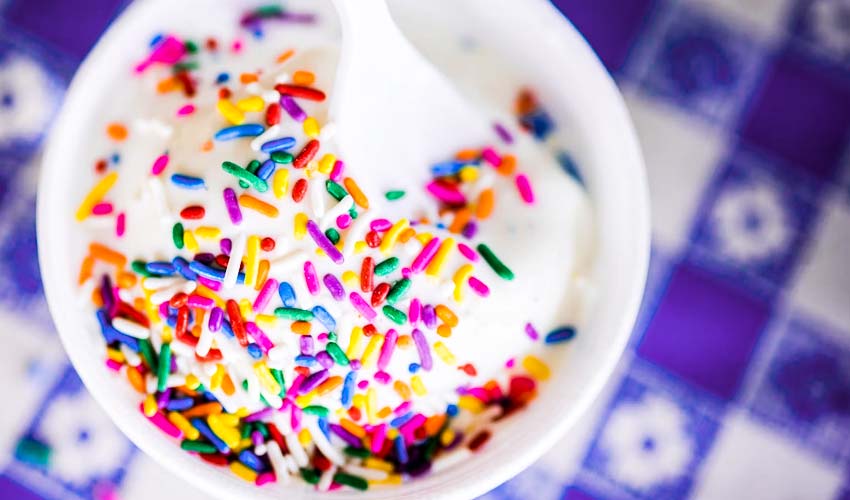 Download Menchie's mobile app (for Android or iOS) and earn your way towards a free froyo on your future visits.
For every $1 that you spend at Menchie's, you will get a smile. To get a free froyo, you need to earn 50 smiles. Download the app today and start earning your smiles.
Claim your free box of goodies now!
It's a giant box of free samples and it comes right to your door at no cost.
Click here and get yours.
Bruster's know how to make their customers happy with their sweet treats.
First, by joining Brusters Sweet Rewards Loyalty Program, members automatically receive a $3 reward that they can use for free ice cream. And every Thursday, all of their customers can enjoy a banana split for half the price.
They just have to provide the banana and Bruster's will provide the ice cream and delicious toppings.
They also have a PJ day once a year where customers can get a free single scoop of waffle cone just by showing up wearing their PJs.
Finally, Bruster's also has treats for babies, pets, and seniors. Check out all of these amazing promotions to believe.
Are you looking for the ultimate sweet escape?
Well, then, the Marble Slab Creamery is the place to be. Enjoy real ice cream in an overwhelming number of flavors, custom-mixed with additional toppings while you are watching. But before you hop in, make sure to download the app to get an instant $5 reward that you can use to get your free ice cream.
As a member of the Slab Happy Rewards, you can also delight in some sweet treats and rewards during special holidays, birthdays, anniversaries, and a lot more.
By joining the Dot Crazy! Email Club, you'll get the chance to receive exclusive deals in your inbox, plus you also get to enjoy a free Dippin' Dots on your birthday.
Each year on March 21st, Ben & Jerry's hosts free cone day. Sadly, free cone day wasn't possible over the last few years, but they are working hard to bring it back as soon as possible.
I'd still recommend signing up for their newsletter while you're there because they're likely to announce the next free cone day to all of their subscribers.
Free Ice Cream on National Ice Cream Day
Ronald Reagan decreed that every third Sunday in July should be known as National Ice Cream Day! If you happen to be reading this article around this time of year, keep an eye on all of the above chains (and any local ice cream shop too) for all kinds of free ice cream promotions.
There is also a less official ice cream day slated for December 13th. I'm not going to pick a side here on which one is the "correct" day, but rather, I'm going to enjoy ice cream on both days, as every sane adult should.
As an added bonus, all of July is considered National Ice Cream Month, but it's unlikely you'll be able to walk down to the local ice cream shop and get handed free ice cream for the entire month of July.
Stick with the third Sunday in June for your best chances.
More Than Free Ice Cream
Aside from National Ice Cream Day, your nearest ice cream shop may also be selling soft-serve ice cream. If they do, check them out around August 19 (during National Soft Serve Day) for giveaways, freebies and promotions.
Well, I've got more for you starting with this huge list of free food, free chocolates, free Starbucks coffee, as well as places that offer free food delivery.