If you're a cat person and felt a little left out with my free dog stuff post, this one's for you!
Don't Miss These Freebies...
Daily Goodie Box - Grab a GIANT box of free samples from some of the world's most popular brands.
Try Products - What's better than one giant box of free stuff? TWO giant boxes of free stuff. Join Try Products to get even more free samples shipped right to you.
P&G Rewards - Get over $100 in coupons to stuff you already buy, plus enter to win weekly gift boxes and gift cards.
I've handpicked all the goodies made free by the cat supply industry once a year, every month, or even just occasionally.
Free Cat Food Samples
Let's begin with free cat food since this is a consistent, recurring expense.
Their dry recipes contain at least 70% animal proteins and have no corn, potatoes, legumes, wheat, or soy.
Inception Pet Foods send out coupons and samples of their Inception Cat (2oz) or & Inception Dog (4oz) for free.
Just send a request with your name, address, and contact info to contact@pets-global.com. After submission please give 2 weeks for your samples to arrive.
You can request free cat food samples by calling 1-800-342-4808 or visiting a local retailer.
The company gives away free cat food (and dog food), but sometimes closes the sample request form.
Bookmark the site and check back once it opens.
Select "Coupons or Samples" as a Reason for Contact, fill out the form with your information, and enter a few details about your cat as well.
Sign up for recipe change alerts for a chance to get free cat food samples.
Free samples are available at local Open Farm resellers, which you can learn about if you email support[at]openfarmpet[dot]com for the location nearest you.
Once you receive the samples, let them know how your dog likes Open Farm by posting a picture on social media of your dog with their sample bag and tagging the company, @OpenFarmPet.
Email your request for free cat food samples to info[at]youngagainpetfood[dot]com
8. Pet Pantry (North Carolina residents only)
Make sure to fill out the form on The Pet Pantry to get a bag of cat food samples.
The good news is Pet Pantry carries different brands like Orijen, Nature's Variety, Taste of the Wild, and Earthborn.
I Love You and You offers one-of-a-kind menu for cats and dogs.
I recommend you take the "Find the Right Food" quiz first, subscribe to their newsletter, then drop an email to Betsy and the gang at service@ilypet.com and request a sample of the food they recommend.
Include your mailing address when requesting a cat food or treat freebie.
10. PawTree
This Texas-based pet store offers organic, holistic pet food that treats cat and dog issues from inside out.
If you're looking for nutritious meals for your cat, contact pawTree and request a sample.
11. Pet Lovers Center
The Kitty Pack you can receive from the Pet Lovers Center is worth over $80 (and includes several cat food, cat treats and other cat items).
Claim your free box of goodies now!
It's a giant box of free samples and it comes right to your door at no cost.
Click here and get yours.
Requesting for a pack isn't as easy as sending an email, but it is definitely worth it, especially for new kitty owners.
12. Shameless Pets
No purchase is required
US participants only
Must be 21 or older to join
1 entry per valid email address
If you get picked, you'll be able to win Shameless Pets t-shirt & backpack PLUS a 6 month supply of treats (filled inside your new backpack).
You can also request free cat food samples directly from major brands, such as Smalls, Whiskas, Meow Mix, and Blue Buffalo, among others.
Low Cost & Almost Free Cat Food Samples
The following aren't really free, but they're at a very low cost and are worth checking out.
Nutrish, the pet food company owned by Rachel Ray, gives away discounted cat food and treats when you decide to switch brands. It isn't free, but if you're shopping around for other cat food to try, then this deal is pretty good.
Feed Pet Purveyor is a Florida-based shop that prides itself on its high-quality, healthy selection of food and other pet essentials. Order from their wide selection of pet food samples and pay $1 to $7 processing fee per sample (free shipping).
Purina doesn't disclose that they have samples, but if you check the contact form, choose "promo and special offers" when asking for free cat food samples. Include your mailing address with the request. Sometimes, companies never answer, but just send free stuff instead.
For a dollar plus shipping cost, Life's Abundance will send you a small pack of premium dry cat food, gourmet cat treats for skin and coat, as well as the company's Instinctive Choice Premium Canned Cat Food.
If your cat loves treats, they'll probably love Ageless Paws Freeze-Dried Treats. Their sample bags cost $2.99 each, free shipping and handling.
Meowijuana is giving away a set of cat goodies, which includes four 1-gram bags of catnip, one 12-gram bag of Salmon-flavored treats, and a 2-inch circle sticker, all for $1. You do have to pay for shipping and handling, which is $3.20.
Hill's Pet Nutrition continually posts special offers and coupons on their site. Currently, you can get $5 off any bag of Hill's Science Diet or Bioactive dry cat food bag.
If you're a member of the PetSmart Treats Program, your cats could get a free surprise on their birthdays.
Canidae currently does not offer samples of products, but they encourage you to keep an eye out for promotions from their retail partners. Call 800-398-1600 to find a store near you that might have a trial bag or have specific questions about a promotion.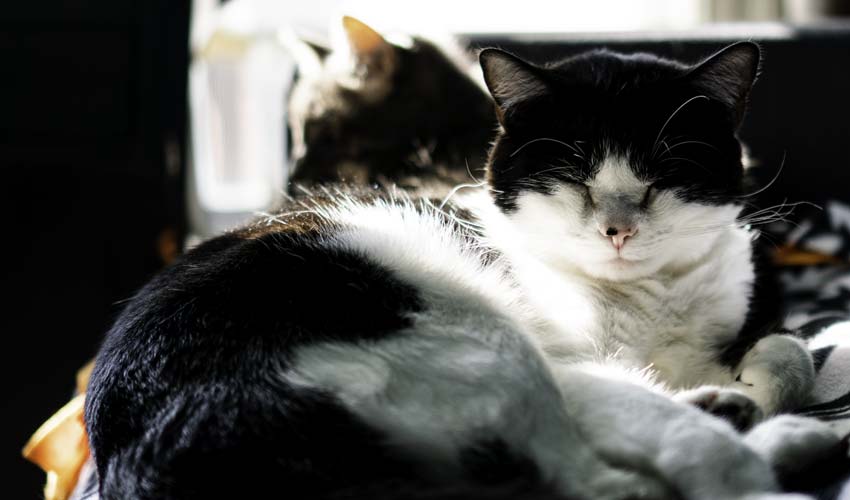 Other Free Cat Stuff
From free supplements to toys and other cat stuff, take advantage of these freebies for your feline babies:
Nupro Supplements — If you're looking for cat supplements, you can try out Nupro Natural pet supplements by calling 800-360-3300.
Arm & Hammer — Join the ARM & HAMMERTMKitty Krew community to get kitty litter or other cat product freebies.
ASPCA — It may take 4 to 6 weeks for you to receive this, but filling out this form gets you a FREE ASPCA Pet Safety Pack Kit that includes a pet rescue window decal and ASPCA Animal Poison Control Center magnet.
Fauna Care — For cats and other pets who usually get cuts and scrapes, Fauna Care is giving away a free sample of Silver Spray in exchange for a review (and before/after pictures of the wound).
Elsey's Precious Cat Litter — If this is your cat's brand, save a receipt next time, fill out the form and attach a photo of the receipt so you could get up to 40 pounds of free Dr. Elsey's cat litter.
PetSafe — Join their testing panel for chances to keep the products you test, plus a chance to win free PetSafe products.
Banfield Pet Hospital offers new clients a free office visit and veterinary consultation. Fill out this form to see more details.
Pawjourr filters all free cat food and low-cost cat food promotions from numerous brands.
The Bottom Line
Don't just feed your cat all the freebies you get. Double-check for recalls and withdrawals of cat food brands – it's published on the FDA website.
Compared to dog food and other dog-related freebies, there are fewer free cat food and other stuff available online.
The good news though is that you have other reliable sources (aside from the list I've shown above). First is your vet: you can find samples of cat supplements, medicine, grooming tools, and other items that would promote excellent health and healing of your cats.
When it comes to free cat food, treats, and other edibles, your best bet is to visit your local pet shop. In most cases, pet food companies send out freebies to pet shops exactly so pets of new customers could try out their products.