If you're a cat person and felt a little left out with my free dog stuff post, this one's for you!
Don't Miss These Freebies...
Daily Goodie Box - Grab a GIANT box of free samples from some of the world's most popular brands.
Try Products - What's better than one giant box of free stuff? TWO giant boxes of free stuff. Join Try Products to get even more free samples shipped right to you.
Survey Junkie - Work with companies like Nike, Sony, and Apple and get paid to test out their latest products!
I've handpicked all the goodies made free by the cat supply industry once a year, every month, or even just occasionally.
Free Cat Food Samples
Let's begin with free cat food since this is a consistent, recurring expense.
PawTree PawPairings — This brand is like a McCormick for cats and dogs. Ideal for picky eaters, this seasoning goes with any other cat food, whether you're giving pellets or natural food. They're made of a mix of vitamins, minerals, and antioxidants. For $2.95 shipping and handling, they can send you free samples.
Inception Pet Foods — Their dry recipes contain at least 70% animal proteins and have no corn, potatoes, legumes, wheat, or soy. Fill out the form to get free cat food samples.
Essence Pet Foods — You can receive a sample of Essence Pet Foods after filling out this form.
Taste of the Wild Pet Food — You can request free cat food samples by calling 1-800-342-4808 or visiting a local retailer.
Farmina — The company gives away free cat food (and dog food), but sometimes closes the sample request form. Bookmark the site and check back once it opens.
Nutro — Select "Coupons or Samples" as a Reason for Contact, fill out the form with your information, and enter a few details about your cat as well.
Fussie Cat — If your cat is a fussy eater, Fussie Cat's Physiologically Correct recipes might just be the answer. Fill out the form to get two bags of free cat food samples. Choose two from these variants: Salmon, Salmon & Chicken, or Chicken & Turkey.
Dave's Pet Food — Sign up for recipe change alerts for a chance to get free cat food samples.
Open Farm Pet — Free samples are available at local Open Farm resellers, which you can learn about if you email support[at]openfarmpet[dot]com for the location nearest you.
Young Again — Email your request for free cat food samples to info[at]youngagainpetfood[dot]com
Nature's Logic — Fill out the form and get a coupon for 2 free cans of cat food, which you can redeem at your local retailer.
You can also request free cat food samples directly from major brands, such as:
Almost Free Cat Food Samples
The following aren't really free, but they're at a very low cost and are worth checking out.
Nutrish, the pet food company owned by Rachel Ray, gives away discounted cat food and treats when you decide to switch brands. It isn't free, but if you're shopping around for other cat food to try, then this deal is pretty good.
Feed Pet Purveyor is a Florida-based shop that prides itself on its high-quality, healthy selection of food and other pet essentials. Order from their wide selection of pet food samples and pay $1 to $7 processing fee per sample (free shipping).
For a dollar plus shipping cost, Life's Abundance will send you a small pack of premium dry cat food, gourmet cat treats for skin and coat, as well as the company's Instinctive Choice Premium Canned Cat Food.
If your cat loves treats, they'll probably love Ageless Paws Freeze-Dried Treats. Their sample bags cost $2.99 each, free shipping and handling.
Meowijuana is giving away a set of cat goodies, which includes four 1-gram bags of catnip, one 12-gram bag of Salmon-flavored treats, and a 2-inch circle sticker, all for $1. You do have to pay for shipping and handling, which is $3.20.
Hill's Pet Nutrition continually posts special offers and coupons on their site. Currently, you can get $5 off any bag of Hill's Science Diet or Bioactive dry cat food bag.
Purina also has a similar promo, but the coupon only pays for $5 of any product you choose. And they made it interesting with the "28-day challenge."
If you're a member of the PetSmart Treats Program, your cats could get a free surprise on their birthdays.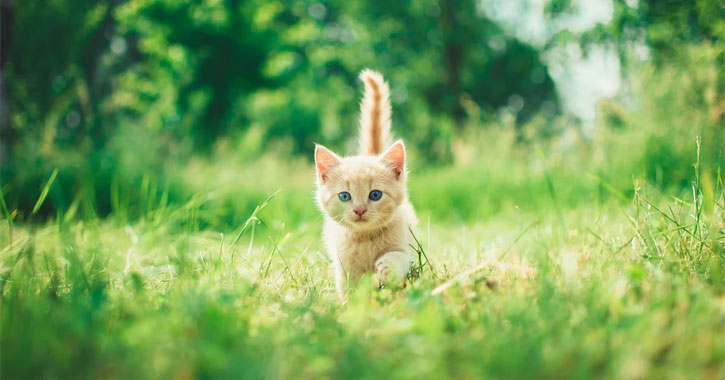 Other Free Cat Stuff
From free supplements to toys and other cat stuff, take advantage of these freebies for your feline babies:
Banfield Pet Hospital offers new clients a free office visit and veterinary consultation. Fill out this form to see more details.
The Bottom Line
Compared to dog freebies, there are fewer free cat food and other stuff available online.
The good news though is that you have other reliable sources (aside from the list I've shown above). First is your vet: you can find samples of cat supplements, medicine, grooming tools, and other items that would promote excellent health and healing of your cats.
When it comes to free cat food, treats, and other edibles, your best bet is to visit your local pet shop. In most cases, pet food companies send out freebies to pet shops exactly so pets of new customers could try out their products.
What's your cat's favorite food? Have you ever tried to score free cat stuff? Share your stories with us in the comments!