On average, US drivers spend around $500 a month for gas, so if you can get free gas cards to reduce this expense, wouldn't you take it?
Don't Miss These Freebies...
Daily Goodie Box - Grab a GIANT box of free samples from some of the world's most popular brands.
Try Products - What's better than one giant box of free stuff? TWO giant boxes of free stuff. Join Try Products to get even more free samples shipped right to you.
Survey Junkie - Test new products, keep them, and get paid for your feedback. Sign up for free to get started.
The answer is probably a no-brainer. Unfortunately, not many people are aware of or have the patience to obtain these freebies.
But if you're really trying to downsize your expenses, you may find some of the following tips worth the trouble.
1. Do Online Tasks to Earn Free Gas Cards
From survey sites to gift card websites, there are several websites that you should bookmark for your fuel money fundraising. These include:
Note that the sites above do not always have gas cards you can redeem for, but they will always have PayPal as an option for payout. That's real money you can spend for as much fuel as your vehicle needs.
Just like my post about getting free Steam gift cards, not all sites provide free gas cards (or Steam cards), but because they allow you to earn extra cash, you can use this for your weekly gas money just as you're free to spend the money on groceries.
2. Get Free Gas Cards from Rewards and Rebates
Rewards, cashback, and rebates are all great because you earn money for spending money.
Many rewards, rebates and cashback programs lead to cash payouts and gift cards. Gas cards are also often an option for payout, but if the program doesn't pay out in gas cards, it's up to you to use your earned cash to buy free gas.
Here are some places you might find these programs:
Credit Card Cashback
If you use credit cards, check the website for cashback promos.
Some cards offer from 2% up to 10% cash back on gasoline purchases all year round. Others make it exclusive to certain cards, such as the Bank of America Gas Rewards card or Blue Cash Preferred Card from American Express.
Sometimes, gasoline purchase is just one of many rotating categories of a bank's credit card cashback promo.
You'd have to check with your particular bank if you already have an existing credit card. If you're shopping for one, include gas rebates as a major consideration.
Travel Rebates
Those who travel regularly should look out for hotel promos, such as the rewards program offered by Best Western Hotels.
You accumulate points with every stay, which you can then redeem for gas cards at certain gas stations.
Grocery Store Rewards
Grocery runs are part of life, so if your favorite store has a loyalty program, check if you can redeem points towards gas at their gas stations or partner stations. Here are some examples:
Gas Station Rewards Programs
Almost all gas stations have their own loyalty programs, which give you a chance to earn money back whenever you fill in your tank.
Other gas stations like Loves only have a rewards program aimed at professional drivers.
Retail Stores
Even your favorite local stores could have rewards programs that could help you earn some fuel money without working for it.
A good example of this is CVS and its ExtraCare Rewards Card that sometimes gives away free $10 gas cards with certain amounts purchased.
Check with other retail stores for similar promos.
Scan-Your-Shopping-Receipt Rewards Apps
If you don't keep receipts when shopping or dining out, it's a good time to start now.
Claim your free box of goodies now!
It's a giant box of free samples and it comes right to your door at no cost.
Click here and get yours.
There are plenty of apps and sites (such as Ibotta and Receipt Hog) that reward you for uploading your receipts. Just download the app, take a picture of your receipts, and earn points immediately based on the purchases you made.
3. Apply for a Gas Station-Branded Credit Card
As mentioned above, there are a number of credit cards that do have general rewards program, where you card earn rewards, rebates, or cashback for every purchase you make.
However, if you have a long commute and drive heavily, or if you moonlight as an Uber or Lyft driver on your days off, and you tend to visit the same gas stations, then a gas station-branded card may be a good choice for you.
These gas credit cards normally offer gas-centric rewards, maybe even free gas cards or vouchers, as well as discounts on convenience stores in gas stations and related products and services.
Do remember that you can only maximize the rewards if you pay these gas credit cards in full, as their APR is typically higher than the usual credit cards.
Here are some of the gas station-branded cards currently available, as well as some information about their rewards.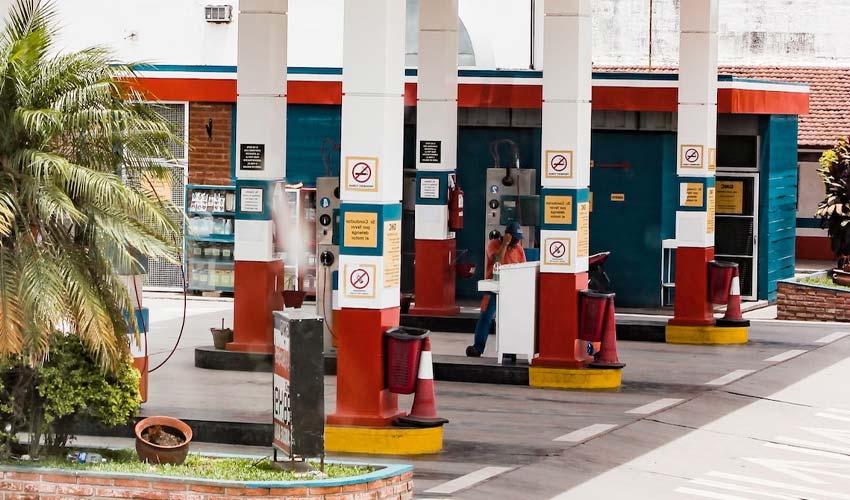 4. Win Free Gas Cards Straight from Fuel Companies
Follow the social media platforms of all the fuel companies and gas stations you frequent.
You can also subscribe to their newsletters or text alerts to be updated with product offers, contests, and giveaways.
Sometimes, the prize is free gas cards. Other times, you'll get discounts. If you're lucky, you may land the jackpot of all free gas giveaways and win a year's worth of gas. Your chances would probably slim, but there's nothing to lose if you join these contests, right?
Here are a handful of the popular gas station brands: Casey's, Hy-Vee, Rutter's, Sheetz, Parker's, and Love's Travel Stops, among hundreds of others.
5. Ask For Help
Since 2008, the non-profit organization Free Gas USA has helped low-income families pay for fuel to get to work, with monthly grants from $50 to $1,200.
Although this specific fuel card program from Free Gas USA stopped in 2019, you might be qualified to get free gas from the government, churches, and certain organizations such as the local Salvation Army and other local charities.
These kinds of help exist. The only problem is they're in high demand and the funds can be limited.
The Bottom Line
If you're unable to take advantage of the tips above for one reason or another, you could always find the next best thing: discounted gas.
You can download apps like GasBuddy, which partnered with over 150,000 gas stations across the US, Canada, and Australia. It's available for Android and iOS phones and can be used to find the cheapest gas near you, or just pay through GasBuddy to save 5¢ per gallon, and 10% for parking, shopping, and dining at GasBuddy locations.
If you want to buy cheap gas cards anytime, Gift Card Granny is a site you should bookmark. Here you could save from 5% to 10% of the regular price of popular brands like Exxon Mobil, BP, Speedway, and more.
Many newer cars are fuel-efficient, so even if driving is a necessity, regular gas purchases aren't too much of a burden financially.
Unfortunately, not everyone could just sell their current cars and buy newer models. If rising fuel prices are placing pressure on your budget, this list of ways to get free gas cards can hopefully help.
You should also check my guide on how to get a free car, where to find free car vacuum services near you, gas stations with free air pump services, and this ever-so-handy free towing guide (because you never know when you'll need it).